A Guide to Free Download Editor Fonts to Enhance Your Videos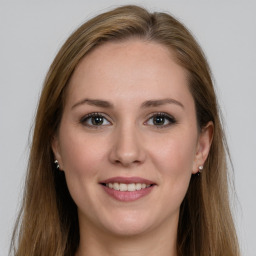 Sabrina Nicholson
Last update on: April 12, 2023
Video editing is a great way to enhance your videos and give them a more professional look. One way to achieve this is by using editor fonts to add a unique touch to your videos. In this guide, we will provide an overview of free download editor fonts and show you how to install them in Wondershare Filmora Video Editor. This software is a popular choice among video editors due to its user-friendly interface and powerful editing features. By combining the use of editor fonts and Filmora Video Editor, you can take your video editing skills to the next level and create visually appealing videos.
1. What are Editor Fonts?
Editor fonts are specialized fonts designed for use in video production and post-production. They differ from regular fonts in that they are optimized for use in video and often feature unique characteristics that can enhance the visual appeal of videos. For example, editor fonts may have more prominent serifs or more stylized letterforms to make them more readable on screen. They may also have specific weights or styles designed to convey different moods and tones in video content. Overall, editor fonts play a critical role in video production by helping to establish the visual identity of a video and conveying key messages to the viewer.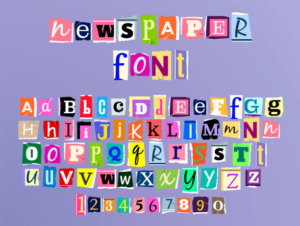 2. The Benefits of Free Download Editor Fonts
Free download editor fonts offer a wide range of benefits for video creators and producers.
⊗Enhancing Visual Appeal
One of the most significant benefits is the ability to enhance the visual appeal of a video. Editor fonts are designed to be more visually appealing and unique than traditional fonts, which can help grab the viewer's attention and keep them engaged throughout the video. These fonts are often more stylized, with bold letterforms and unique designs that can make them stand out on screen.
⊗Improving Quality
Editor fonts are optimized for use in video production and post-production, which means that they are designed to be easily readable on screen. This is particularly important when it comes to text overlays and captions, which can be difficult to read if the font is not legible. By using editor fonts, video creators can ensure that their text is clear and easy to read, which can help improve the overall quality of the video.
⊗Cost Savings
Premium fonts can be expensive, particularly for video creators who are working with limited budgets. By using free download editor fonts, video creators can save money without sacrificing quality. This can be particularly important for smaller video production companies or individual video creators who are looking to produce high-quality content on a limited budget.
⊗Establishing Identity
By choosing a font that complements the tone and style of the video, creators can help to create a cohesive and memorable viewing experience. This can be particularly important for branding and marketing videos, where the visual identity of the video is critical to its success. By using editor fonts, video creators can help ensure that their videos are memorable and effective in communicating key messages to the viewer.
3. How to Download and Install Free Editor Fonts
Editor fonts can enhance the visual appeal and quality of your videos. Here's a quick guide on how to download and install free editor fonts:
Step 1: Find a Reputable Website for Free Fonts
Search for reputable sites that offer free fonts. Here I also recommend several convenient and fast free font download websites, hoping to help you.
•DaFont
•FontSpace
•Google Fonts
•1001 Free Fonts
DaFont, FontSpace, Google Fonts, and 1001 Free Fonts are websites that offer a wide variety of free fonts for personal and commercial use. They have user-friendly interfaces that allow you to search and browse through thousands of fonts in different styles, such as script, sans-serif, and display fonts. By following a few simple steps, you can easily download and install the fonts on your computer, which you can then use in your video editing software to enhance your videos with unique and visually appealing typography.
Step 2: Choose Your Fonts
Choose the fonts that best suit your video's style and tone. Consider using a combination of fonts for titles, captions, and other text overlays.
Step 3: Download and Extract the Font Files
Download the font files and extract them to a folder on your computer.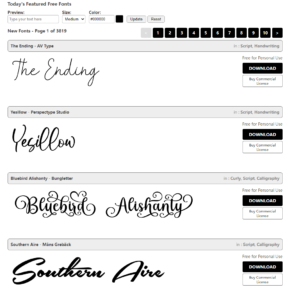 Step 4: Install the Fonts on Your Computer
Install the fonts on your computer by selecting all the font files, right-clicking, and selecting "Install".
Step 5: Test the Fonts in Your Video Editing Software
Test the fonts in your video editing software like Wondershare Filmora and make any necessary adjustments to the font size, color, or placement.
4. Introducing Wondershare Filmora Video Editor
Wondershare Filmora Video Editor is a versatile and powerful video editing software suitable for both novice and professional video editors. Its easy-to-use interface provides users with access to a broad range of tools and features for editing audio, video, and image files. Whether you're creating a promotional video, tutorial, or short film, Filmora's intuitive drag-and-drop interface, comprehensive effects library, and customizable templates will help you achieve professional-looking results.


One of the standout features of Wondershare Filmora is its vast library of royalty-free music, sound effects, and stock footage, which can enhance the overall quality of your videos. Filmora's special effects, such as motion graphics, green screen, and split-screen, allow you to add an extra layer of creativity to your videos. Additionally, the software offers advanced tools, including the Color Correction tool and Audio Mixer tool, to refine your video and audio tracks.
5. Using Editor Fonts with Wondershare Filmora Video Editor
Wondershare Filmora's extensive library of effects, transitions, and text templates combined with the added element of editor fonts, can create a visually appealing and engaging video that captivates your audience. Whether you're creating a promotional video, tutorial, or vlog, editor fonts can enhance the overall look and feel of your video by adding a professional touch. Wondershare Filmora offers a range of font styles to choose from and its drag-and-drop interface makes it easy to customize and apply them to your videos.
6. How to Change Fonts in Filmora to Enhance Your Videos?
Step 1: Click Titles in Filmora
Open the video project you want to add titles to in Wondershare Filmora Video Editor. Then, select the "Titles" tab from the top of the screen.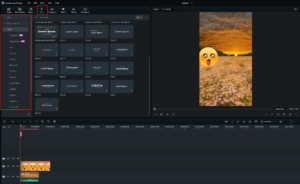 Step 2: Selecting the Right Title Style
Once you are in the "Titles" tab, select the type of title you want to add from the available options, such as opening titles, lower thirds, or end credits. After selecting the desired title style, drag and drop it onto the timeline at the point where you want it to appear in your video.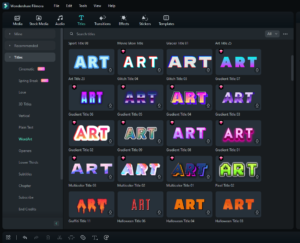 Step 3: Customizing Text and Effects
Double-click on the title element in the timeline to access the text editing features. Here, you can customize the text content, font, size, color, and style of your title. You can also add animations and effects to your title to make it stand out even more.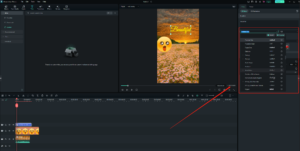 By following the steps outlined above, you can easily install and use any font of your choice, giving your videos a unique and personalized look.
7. Conclusion
With the abundance of free font download websites available online and the user-friendly interface of Filmora, adding custom fonts and titles to your videos has never been easier. By following the steps outlined in this guide, you can add a professional touch to your videos and make them more engaging and memorable for your audience. So, don't hesitate to experiment with different font styles and video editing techniques to create stunning and unique videos that capture your audience's attention.
More on this