1. What is Rytr?
Rytr is a groundbreaking AI writing assistant revolutionizing content creation. It empowers users to effortlessly generate high-quality, original content across 40+ use cases, from blog writing to social media ads. With support for 30+ languages and 20+ tones, Rytr ensures diverse and engaging writing styles. Its intuitive interface and powerful features, including a plagiarism checker and rich-text editor, streamline the writing process.
2. Main Features of Rytr
Versatile Content Generation: Rytr employs state-of-the-art language AI to generate original content for over 40 use cases, catering to various writing needs.
Multilingual Capabilities: With support for 30+ languages, Rytr enables users to write in different languages, expanding accessibility and audience reach.
Diverse Tones and Styles: Offering 20+ tones of voice, Rytr allows users to create content with the right emotional touch, enhancing its effectiveness.
Scientific Copywriting Formulas: Rytr integrates proven copywriting formulas such as AIDA and PAS to ensure high-quality output with minimal editing required.
Rich-Text Editing: The platform features a powerful, user-friendly rich-text editor, enabling users to refine and perfect their content effortlessly.
Seamless Workflow Management: Rytr facilitates collaboration, team billing, and robust project management, simplifying the writing process and enhancing productivity.
Browser Extension: The browser extension lets users create compelling copy directly while working on emails, social posts, or blogs, ensuring efficiency and consistency.
3. Rytr Pricing
| | | |
| --- | --- | --- |
| Plan | Monthly Price | Annual Price |
| Free | $0 | $0 |
| Saver | $9 | $90/year (Get 2 months free!) |
| Unlimited | $29 | $290/year (Get 2 months free!) |
4. How to Use Rytr?
Visit Rytr's official website: Go to https://rytr.me/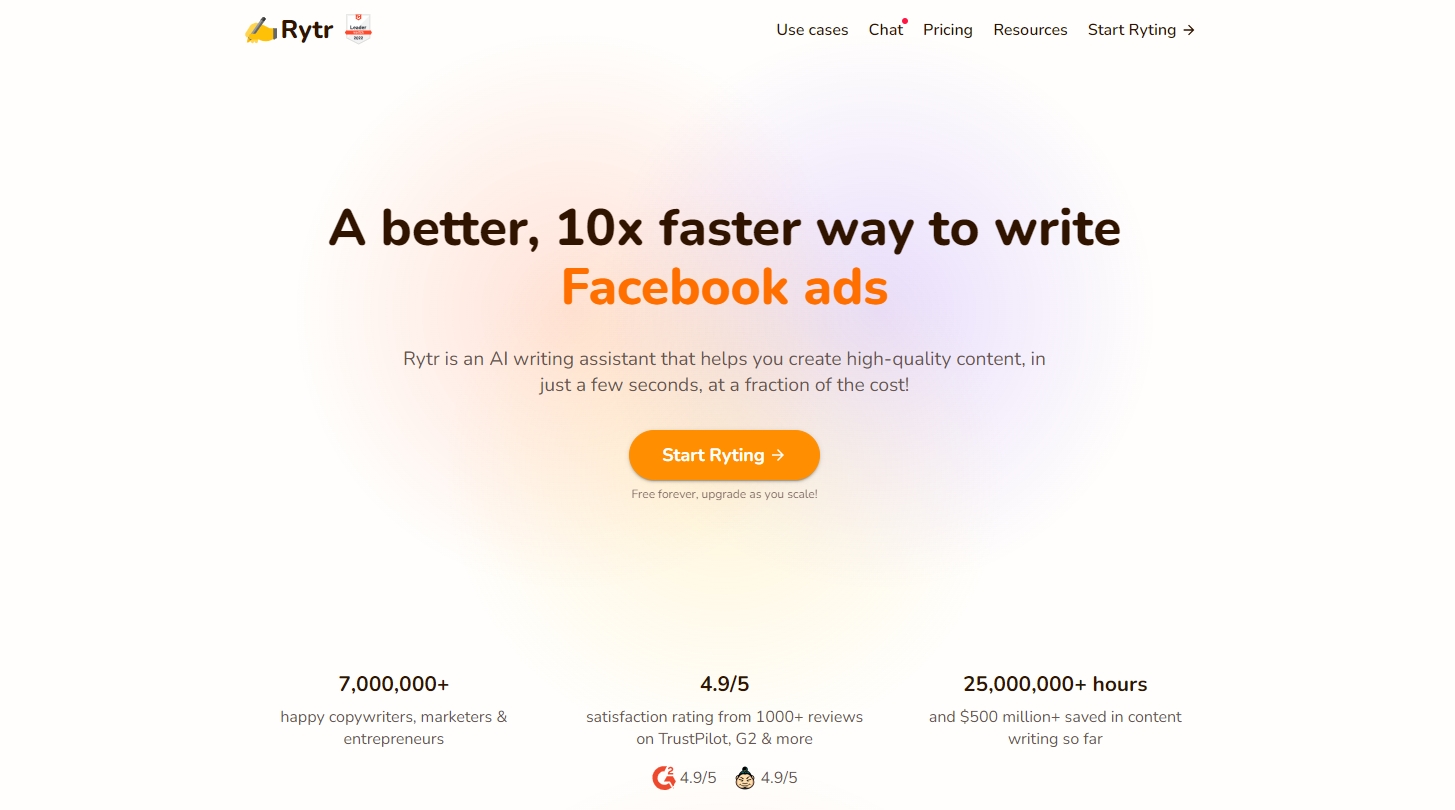 Click Start Ryting: Begin the content creation process.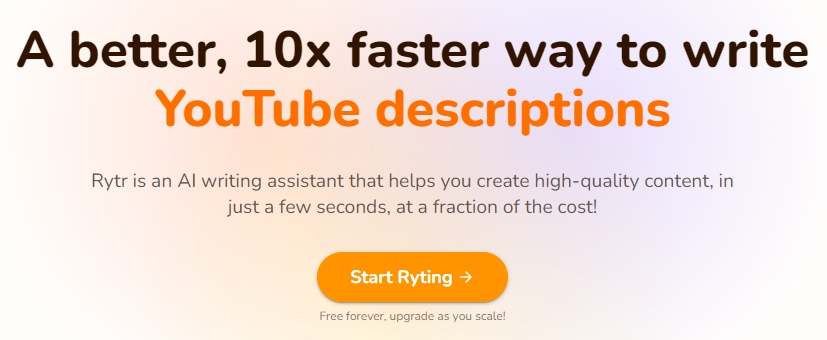 Create or Rytr Log In: Use your Google, Facebook, Linkedin account, or email to sign in.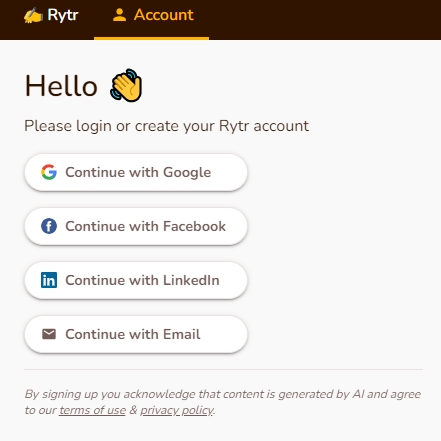 Choose Language: Select from 30+ supported languages, including English, Chinese, French, and more.
Choose Tone: Pick from 18+ tones (convincing, awe-struck, inspirational) to infuse personality into your content.
Select Use Case: Choose from 20+ existing use cases, with new ones regularly added.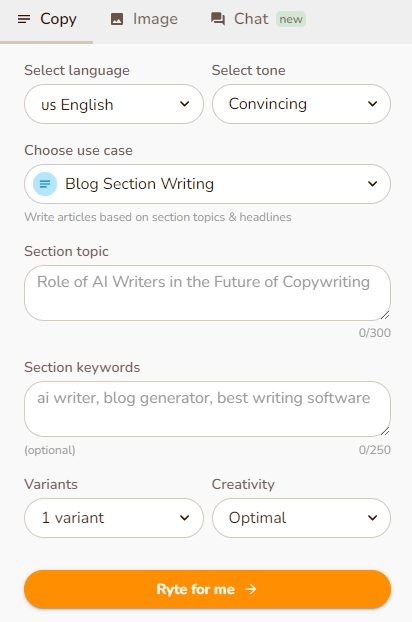 Click New Document: Start a new writing project.


Enter Text Content: Input your text into the platform.


Control Mouse Selection: Highlight and manipulate content as needed.


Select Tools: Use tools like Improve, Rephrase, Command, Paragraph, Continue Ryting, Expand, Shorten, or Plagiarism.


Users can click Continue Ryting. Let Rytr assist in generating the subsequent content.


Copy High-Quality Content: Obtain the generated content and explore additional options in the menu.
Download or Manage: Download content in (.docx) or (.html), or use options like Clear all content, Delete document, or Pin to profile.

5. Rytr Alternatives
Writesonic
Products: Chatsonic, Botsonic, Audiosonic
AI Content Creation & Customer Experience Platform.
Features: On-brand, factual articles; Real-time trending AI generations; No-code AI chatbot builder; AI Chrome extension.
Jasper AI
Products: Jasper AI Copilot
AI Copilot for enterprise marketing teams.
Features: Company Intelligence, Campaign Acceleration, Content Acceleration, Analytics & Insights; Multimodality for text and images.
Products: Rewrite, AI Writing Assistant, Create with AI, Summarizer, AI Answers.
GenAI platform for rewriting, creating, summarizing, and answering.
Features: Write with confidence; Enhance productivity; Create from scratch with AI; Cut reading time; Gain full control of information.
6. Rytr Reviews
Overall:4.6
"Unbelievable results! Rytr's intuitive interface and diverse use-cases make it my go-to for all writing needs. Thumbs up!"
"Rytr makes writing a breeze. The plagiarism checker is a lifesaver, and the AI-generated content is spot-on. Love it!"
Some links may be affiliate links, which means we may earn a commission at no extra cost to you. Check out our disclaimer.