How to Share Screen on Facetime Easily?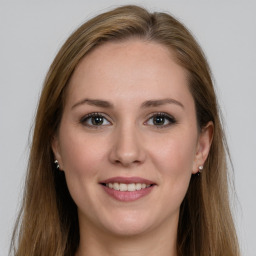 Sabrina Nicholson
Last update on: April 18, 2023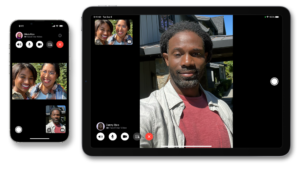 If you are an iPhone user, you may already be aware of FaceTime. After all, it is one of the most useful features to accompany an iPhone. But how to share the screen on FaceTime?
Actually, there are some simple steps you can follow to share screens on FaceTime quickly. Using FaceTime and sharing screens can be quite confusing, especially if you have recently bought your first iPhone.
Fortunately, it is not that difficult to do it. In this guide, you will find all the steps you need.
1. FaceTime
Apple has been offering FaceTime as a permanent feature of its devices for a while now. It used to be an iOS-exclusive feature but with more recent updates, it allows you to connect with Android users as well.
It means you can use FaceTime across many devices to work, watch movies, videos, or show images as you require. These are only a few factors that actually make FaceTime quite appealing. Still, it doesn't mean the feature cannot be confusing to deal with. In fact, it is rather common for people to actually struggle with it.
2. Sharing Screen on an iPhone or iPad
If you have been wanting to use FaceTime on your iPhone or iPad, it is time you actually learned it. These are some simple steps you can follow to do it:
Find FaceTime on your home screen
Tap on the icon and launch the application
Start a call and wait for it to connect
Find the sharing icon and tap on it. You can find it in the top-right corner.
These are some simple steps you can follow to share your screen on your iPhone or iPad.
3. Sharing Screen on a Mac
In case you are using a Mac and want to share the screen, you will need to follow a few steps. They are as follows:
Find FaceTime on your Mac and run the application.
Make a call to the contact you desire and click on New FaceTime before picking the contact you need.
Wait for the call to connect and then navigate the options to find the button of SharePlay.
Select the Window you want to share on your screen and if you want, you can even pick the whole screen.
You can follow these steps to make sure you share your application or even the entire screen if you prefer. Remember, if you pick a specific application to share, you will be required to choose it first.
While these are some simple steps you can follow to get started, it is likely to face some problems. For example, many iOS users have reported a lack of sharing screen features. Subsequently, most ask how to share screens on FaceTime. Well, if you are facing similar issues, these are some solutions you can consider.
4. Solution A: Connect to a Speedy WiFi
Let us begin with a basic trick. You should try checking the speed of your internet and if it is not that high, you can connect to a stronger WiFi. Actually, sharing a screen is rather different from voice calling, which takes only a few Mbps.
Therefore, it is essential to have a speedy connection to actually make it work.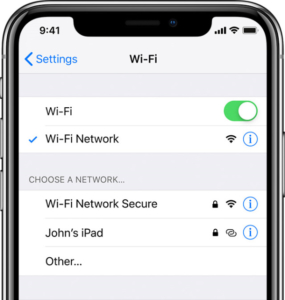 Click on the settings app and then open Wi-Fi.
Connect to the network that you know is faster than your current one.
5. Solution B: Update your iPhone
While it may not look like an ideal solution, it can definitely deal with major OS issues. Just because you are using an old iOS version, it can cause glitches and other issues. So, be sure to try updating the iOS version of your phone.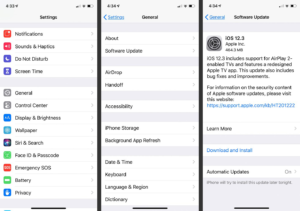 Click on Settings and then on General.
Proceed to Software Update and click on it.
Click on Install to update your iPhone.
Before you try to share a screen with another person, be sure to ask them if they are also using an updated iOS version or not.
6. Solution C: Restart your iPhone
There are times when restarting your iPhone also helps solve basic issues and problems like your inability to share screens on FaceTime. Follow these steps to restart your iPhone:
Press down the power button and wait for the slider to pop up.
Drag the slider to the right and wait for one minute after it has powered off.
Turn your phone on and check if you can share screens now.
Solution D: Use a Third-Party Software
⓵Tenorshare Reiboot Tool
These are some simple steps to follow:
Visit the website and download the software on your laptop. Install the application and then connect your iPhone to your laptop after you have opened the software. 

Select the option of Standard Repair from the application. 

Search the model of your specific iPhone and download it. 


After downloading it, click on the button Standard Repair. It will fix your problem and you will be able to share screens now.

⓶EaseUS MobiSaver

Download the program from the website and install it.

Run the application and connect your iPhone to your computer or laptop.

Download the right firmware for your phone and install it on your iPhone.

After installing the firmware, check if the issue has been resolved or not.
⓷Dr Fone

Download the application from the website and launch it on your laptop or computer.

Wait for the application to open and then connect your iPhone. It will detect your device automatically.

Click on the module of System Repair and then click on iOS Upgrade/Downgrade.

Click on the option of Upgrade iOS and then download the firmware you prefer.

After the firmware has been downloaded and verified, click on Repair Now. Your iPhone will be repaired after it.
7. Verdict
Overall, these are some simple methods with easy steps to follow if you want to know how to share screens on FaceTime. Even if you are unable to share a screen on FaceTime, you can consider the fixes listed in this guide.
These solutions are aimed at helping you fix your phone and resolve all possible OS issues that could be causing you problems. But we recommend using Tenorshare ReiBoot software because it is very easy and efficient to use.
Meta Description: You can easily share screen on FaceTime by going to the application, navigating the screen share button on the top right corner of your app. If you are unable to do so, you can also fix it using steps given in this article.
More on this