Fliki Reviews: AI Text to Video Creator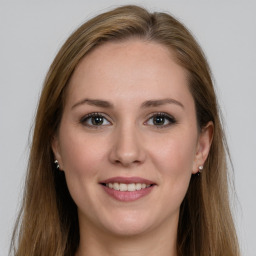 Sabrina Nicholson
Last update on: September 27, 2023
Overview
What is Fliki?

Fliki is a video-creating tool that creates stunning videos 10 times faster with Fliki's AI-powered tools. It transforms your ideas into captivating content using the text-to-video tool with AI voices, ensuring that creating videos is as easy as writing an email. Also, it supports over 2000 realistic Text-to-Speech voices in 75+ languages. 
About the Developer
Founded by visionaries Atul Yadav and Sabir Ahmed, Fliki has emerged as a leading player in the field of AI-driven video production. Formerly known as Awedio, it has rebranded itself to better reflect its commitment to simplifying and accelerating the video creation process.
Fliki's headquarters is located in the vibrant Greater Philadelphia Area on the East Coast of the Southern US, they have been actively transforming the industry since their founding on December 15, 2021.
Features
Convert Text to Videos
Fliki offers a game-changing feature that allows you to effortlessly convert text into engaging videos. With Fliki, you can bring your ideas to life by simply inputting your text and letting our advanced AI technology generate stunning videos for you. Whether it's scripts, ideas, presentations, blogs, or even tweets, Fliki's text-to-video conversion tool simplifies the process and saves you valuable time.
Convert Text to Speech
Fliki provides a seamless and natural-sounding Text-to-Speech (TTS) feature. With over 2000 realistic TTS voices to choose from, spanning across 75+ languages, Fliki ensures that your videos have professional-quality narration that suits your vision. Personalize the AI voice to match the tone, style, and language of your content, giving your videos a polished and captivating audio experience.
Rich Stock Media
Enhance your video creations with Fliki's extensive library of rich stock media assets. Access millions of high-quality images, videos, audio clips, and more to add depth and visual appeal to your videos. From stunning visuals to catchy soundtracks, Fliki provides a vast collection of media resources to complement your storytelling and make your videos stand out.
2000+ Realistic Text-to-Speech Voices
Fliki's AI-powered Text-to-Speech technology boasts a diverse selection of over 2000 realistic voices. Covering a wide range of languages and accents, these voices bring authenticity and professionalism to your videos. Whether you need a voiceover in English, Spanish, French, Mandarin, or any other language, Fliki ensures that your content is accessible and engaging to a global audience.
Video Features

Text to Video

Idea to Video

PPT to Video

Blog to Video

Tweet to Video

YouTube Video Maker
AudioFeatures

Text to Speech

AI Voice Overs

Voice Cloning

Podcast Maker

Audiobook Creator
Fliki Pricing
Fliki offers a range of pricing plans tailored to meet the diverse requirements of content creators and businesses. The Free plan provides an excellent starting point for those looking to explore Fliki's capabilities at no cost. With this plan, you can create videos with up to 5 minutes of content, utilizing a selection of 16 voices. While ultra-realistic voices are not supported, you can still benefit from stock media, a no-watermark feature, and more. For users seeking enhanced features and increased video creation capacity, the Standard plan and premium plans are good choices.
| | | | |
| --- | --- | --- | --- |
| Plans | Free | Standard | Premium |
| Price | $0 | $28/month | $88/month |
| Video credits | 5 minutes | 108 minutes | 600 minutes |
| Voices | 300 | 850+ | 1800+ |
| Ultra-realistic Voices | Not Supported | 140 | 950 |
| Length per Video | 1 minute | 15 minutes | 30 minutes |
| Stock Media | Supported | Supported | Supported |
| Voice Cloning | Not Supported | Not Supported | Supported |
| API Access | Not Supported | Not Supported | Supported |
| No watermark | Supported | Supported | Supported |
How We Review
How to use Fliki text to speech?
Step 1: Create an audio file
To create an audio file, open the Fliki dashboard and click on "New File." Then, select "Audio only." In this step, you have the option to choose the language and create a filename. If you have a link to import the blog's copy, you can do so. Otherwise, select "Start with an empty file."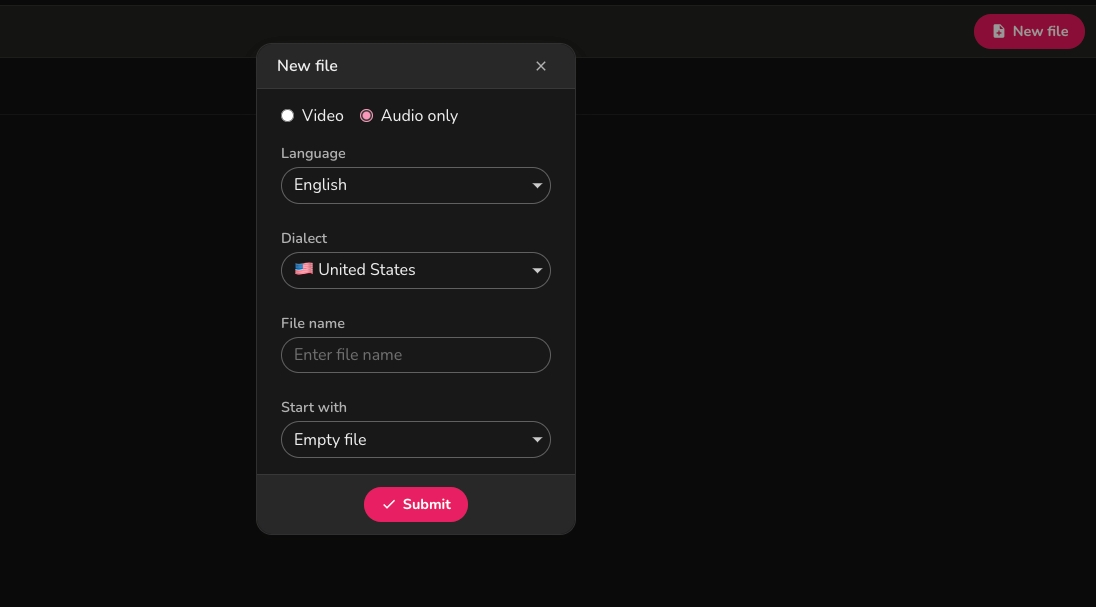 Step 2: Writing the copy
Fliki will display your video scene by scene, allowing you to write the corresponding copy for each scene.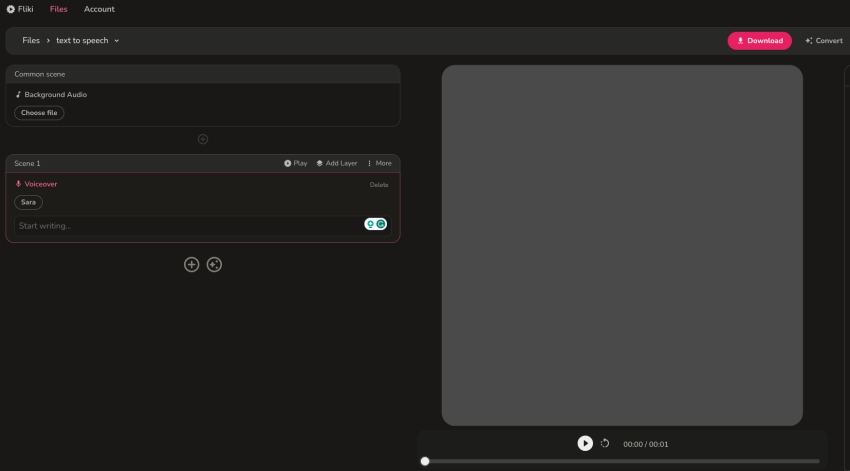 Step 3: Selecting the voiceover
There are several options available for the voiceover. The free options are limited but sufficient. If you prefer a wider variety of styles and more realistic-sounding voices, you can opt for the paid version.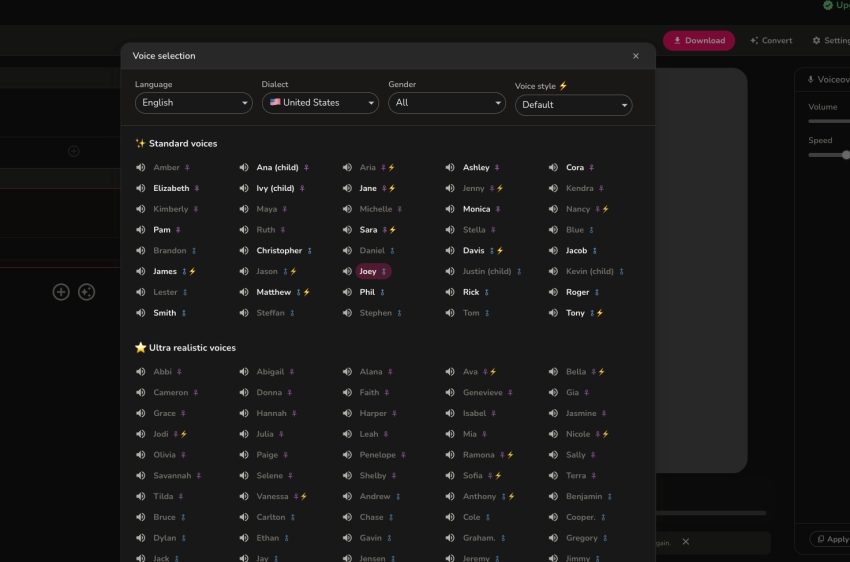 Step 4: Preview and Download
Click the play button to listen to your text online. Simultaneously, you can download the audio file to your computer without any watermark.
How to Create Videos with Fliki?
Step 1: File Selection
Upon logging in, navigate to the "new file" option and choose "video". Then, select your preferred language, dialect, file name, and source. The file source can be a blog, PPT, tweet, or any creative idea you have in mind.


Step 2: Idea Description
Enter your idea in the provided text box. For instance, you can input "the best AI-driven video creation software". Afterward, specify the desired length and style for your video.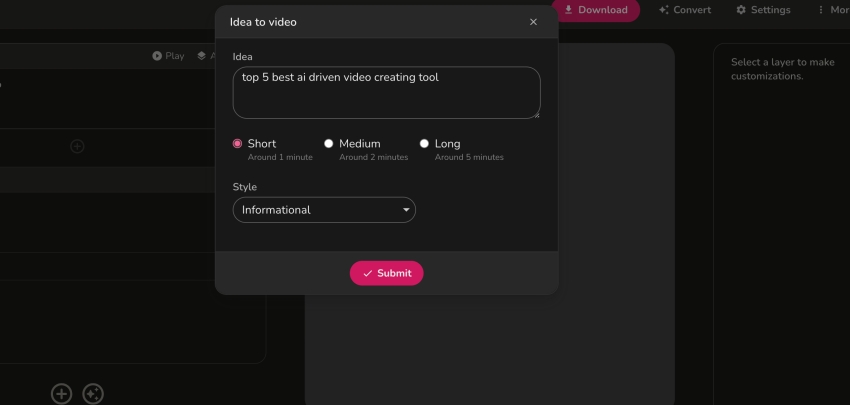 Step 3: Customize Video Elements
Fliki offers helpful recommendations and tools to enhance your video. For instance, it suggests five video editing tools, including "Lumen 5, Magisto, Wave, Rocktium, and InVideo".
Additionally, it automatically generates background music, video graphics, and voiceover. If needed, you can modify these elements to better align with your content.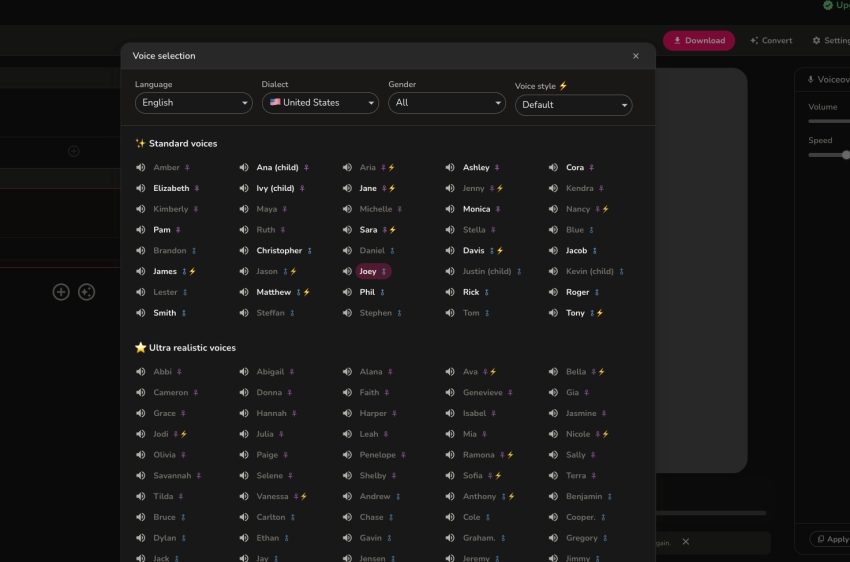 Fliki's rich stock library provides access to resources from platforms like Giphy, Pixabay, and Pexels. However, some images may require an upgrade or payment before use.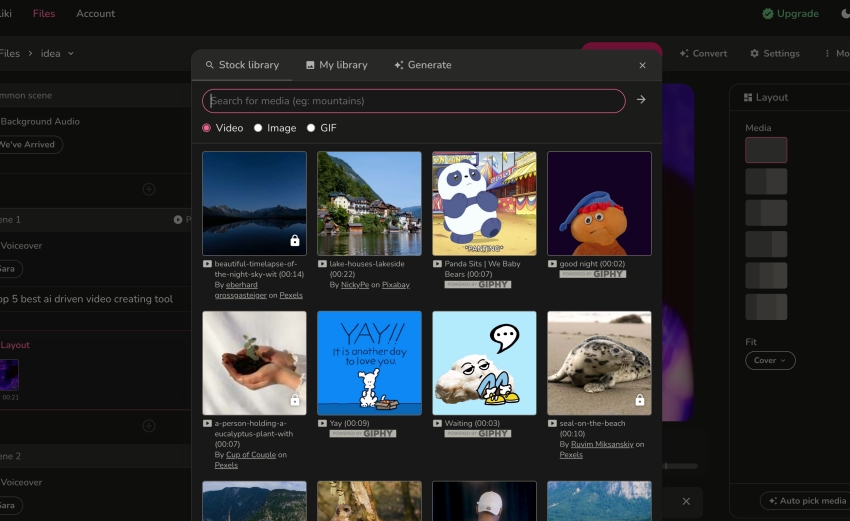 Alternatively, you have the option to upload images from your computer or utilize Fliki's AI image generation tool.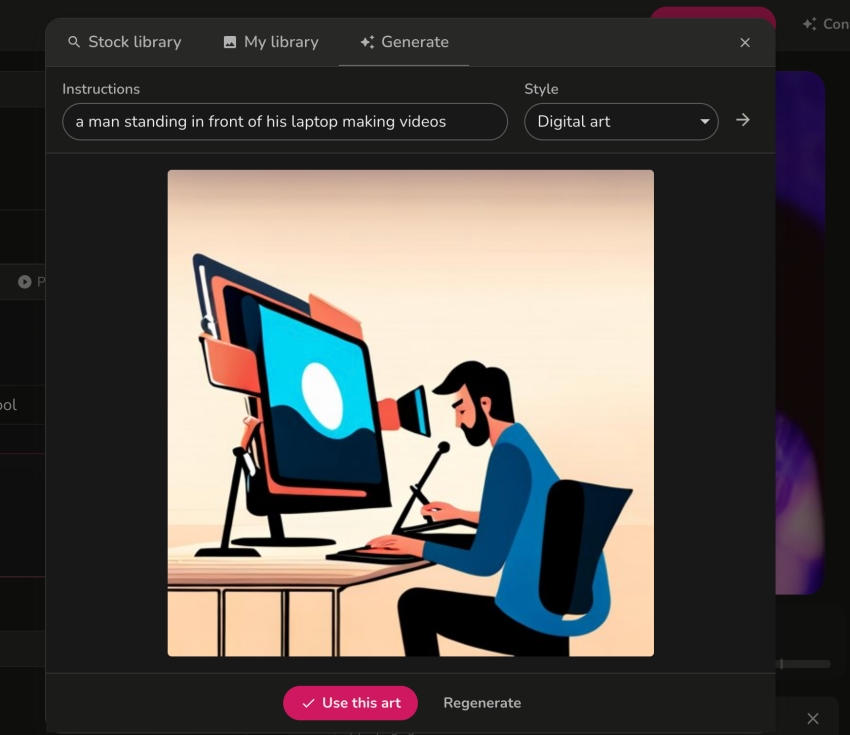 Step 4: Adjust Video Proportions
Fliki conveniently allows you to adjust the video proportions to 16:9, 9:16, or 1:1, making it suitable for platforms like YouTube or TikTok.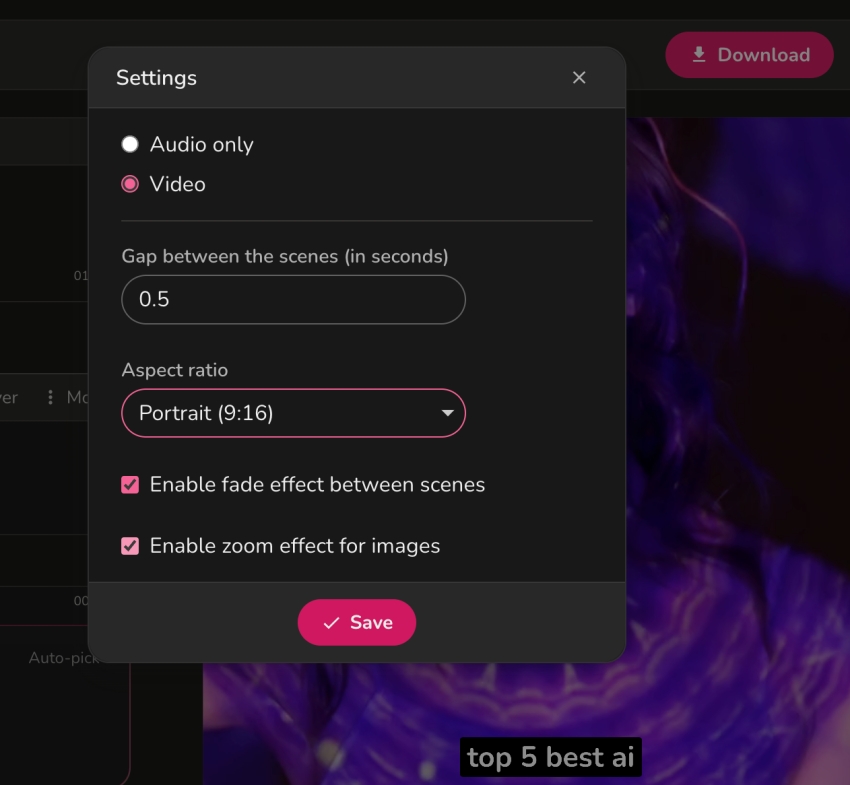 Step 5: Download the Video
Click the download button located at the top to initiate the video download. Please note that the download process may take some time. If you're busy and prefer not to wait, Fliki will notify you via email once the video is ready for download. It's important to mention that videos exported using the free package will include watermarks.
FAQs about Fliki
Is Fliki free to use?
Yes, Fliki offers a free plan that allows you to use their services. However, it's important to note that there are certain limitations to the free plan. With the free plan, you can create videos with a maximum duration of 5 minutes, and some features such as voiceover and other advanced functionalities may have limited access. Additionally, it's worth mentioning that videos created using the free plan will have watermarks present.
Is Fliki AI free for commercial use?
By opting for the paid subscription, users gain access to a range of advanced features that elevate their video creation process. These benefits include the use of ultra-realistic AI voices, the ability to create longer videos, commercial usage rights for their content, the removal of watermarks, and priority customer support. 
Can I use Fliki for YouTube?
Certainly! Fliki offers a dedicated feature called the YouTube Video Maker, specifically designed to create videos for your YouTube channel. With this feature, you can leverage Fliki's tools and resources to produce engaging and high-quality content that is tailored for YouTube.
How do I cancel my Fliki subscription?
You have to contact support to cancel the subscription.
Fliki Alternatives
Pictory AI is an AI-powered video creation tool that effortlessly converts text into engaging videos. With its user-friendly interface, customizable templates, and extensive library of music tracks and stock footage, Pictory AI simplifies the video editing process for users of all backgrounds. Whether you're a marketer, educator, or content creator, Pictory AI empowers you to create professional-looking videos without prior experience. 
Descript
Descript offers a comprehensive set of features for seamless script and scene editing. With Descript, users can easily edit their recordings just like working with a document, thanks to its automatic transcription capabilities. Additionally, the platform allows users to arrange visuals in a slide-like manner, enhancing the visual appeal of their content. 
Invideo
InVideo stands out as an impressive and user-friendly video creation tool that simplifies the process of creating, customizing, and editing high-quality videos. With an extensive library of custom-made templates, an intuitive in-house video editing tool, and even an AI video generator, InVideo has transformed video editing into an accessible task for various purposes. 
More on this