Pictory AI Review: Features, Pricing & Alternatives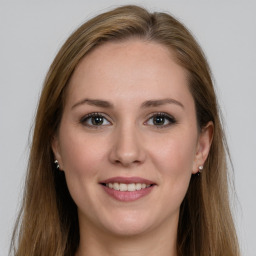 Sabrina Nicholson
Last update on: September 19, 2023
TL;DR
---
Pros

Cons

✅ 14-day free trial with watermark-free output

✅ User-friendly interface, ideal for beginners

✅ Extensive library of high-quality stock videos and music

✅ Time-saving features streamline the video creation process

✅ Supports YouTube video to transcript conversion

✅ Convenient sharing options for social media platforms

⭕ Some images matched with text may have lower quality

⭕ AI voiceovers may sound computer-generated

⭕ Voiceover feature limited to English language

⭕ Audio synchronization may have room for improvement

⭕ Template options may be limited in variety
Overview
---
What is Pictory?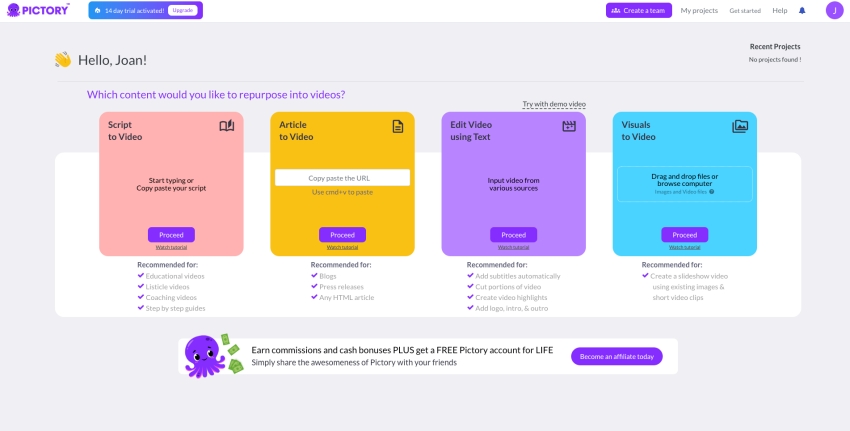 Pictory is an online video creation tool that enables content marketing teams to produce professional-quality videos quickly and easily. It can transform scripts into videos with realistic AI voices, matching footage, and music in just a few clicks. Pictory also offers features like turning blog posts into summary videos for better SEO, extracting highlights from long-form videos for social media, and automatically adding captions for increased reach. With the Teams Plan, teams can collaborate and share assets, making video production more efficient and cost-effective.
About the Developer
Pictory, is an active software company based in the Greater Seattle Area, on the West Coast of the United States. Founded on September 1, 2019, by Abid Ali Mohammed, Vikram Chalana, and Vishal Chalana, Pictory specializes in the fields of artificial intelligence, information technology, marketing, and software development. Pictory has received funding, including a recent venture funding round on March 23, 2023, where it raised $2,616,218 in a series of unknown funding types. 
Features
---
Script to Video
As a YouTuber, effortlessly convert your transcript into a video using Pictory. It automates the process, reducing your workload.
Article to Video
Transform your written articles into engaging videos by simply pasting your blog link into Pictory. It diversifies your content and boosts reader engagement.
Edit Video using Text
Upload your video and let Pictory automatically add captions. It can also transcribe the audio and support downloads in .srt, .vtt, and .txt formats.
Visuals to Video
Effortlessly create slideshow videos by uploading your images to Pictory. The tool will add background music, making it perfect for creating family photography montages.
Here are some common features of the editing process in Pictory:
| | |
| --- | --- |
| Extensive library  | Supported |
| Change background textures | Supported |
| Background Music | 15000+ tracks available |
| AI voiceover | 60+ voiceovers from US, UK, Australian, Indian, New Zealand and Soth Africa Accent |
| Upload or record voiceover  | Supported |
| Change voiceover or speed | Supported |
| Add heading, subheading or body text | Supported |
| Adding emojis, GIFs and Stickers | Supported |
| Adjusting video format | 16:9 landscape, 9:16 portrait and 1:1 square |
Pictory Pricing
---
Pictory offers flexible pricing plans designed to meet the varying needs of its users. With a 14-day free trial that requires no credit card information, customers can explore the platform before making a commitment.
Plans

Standard

Premium

Teams

Pricing

$23(monthly)

$19 (Yearly)

$47(monthly)

$39(Yearly)

$119(monthly)

$99(Yearly)

User

1

1

3

Videos per month

30

60

90

Video length for text-to-video feature

10 min

20 min

30min

video transcription

10 hrs

20 hrs

20 hrs

Branded Templates

3

10

20

Edit existing video recordings

1hr

3 hrs

3 hrs

music tracks

5000

10000

15000

text-to-speech AI voices

34

60

60

voice-over synchronization

Not supported

supported

supported

Automatic video highlights

Not supported

supported

supported

Sharing & Collaboration Features

Not supported

Not supported

supported
How we review
---
Sign Up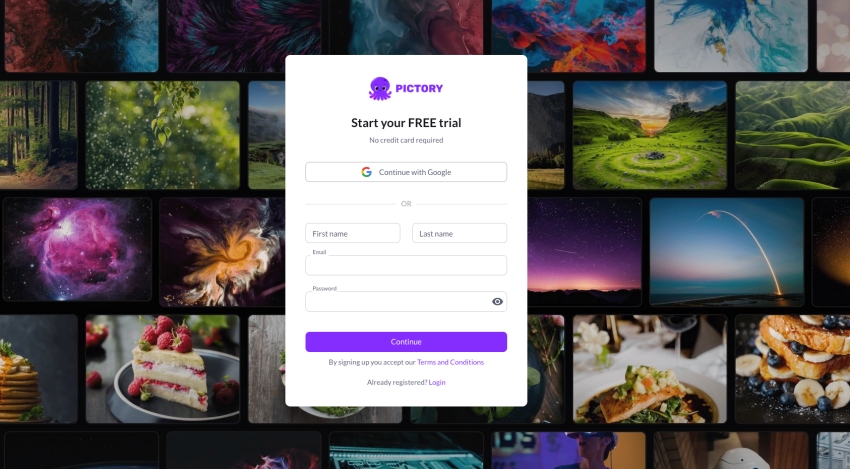 How to turn your blog post into a video?
Step 1: Select the input source
Choose Article to Video from the dashboard, and then provide the URL of your blog post. I added a recently posted article on Apphut.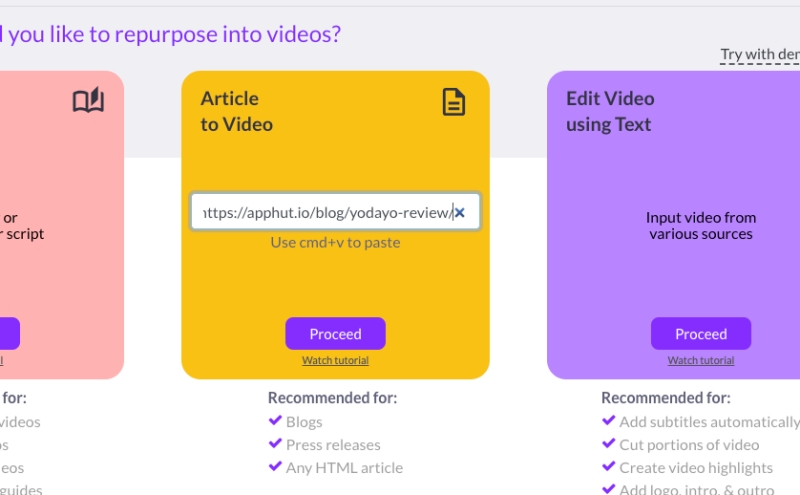 Step 2: View and edit text
Pictory will automatically generate a summary from a few sentences of your article. You'd better check again to decide whether to add or remove them as desired.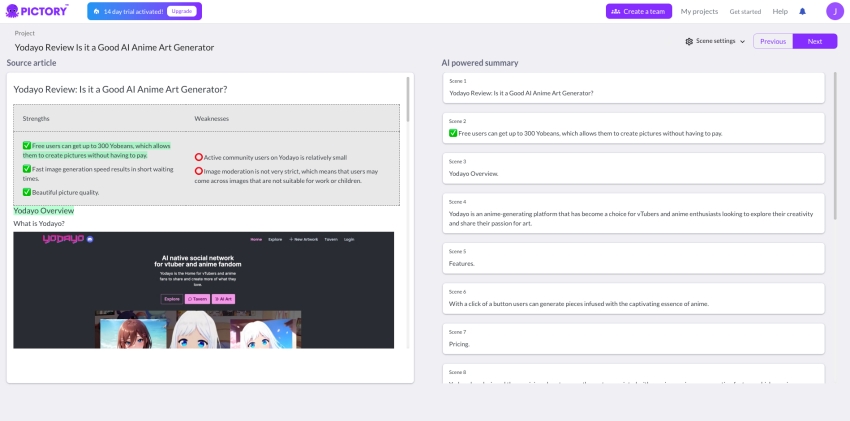 Step 3: View and edit the video storyboard
Pictory also generates some images and video clips from its extensive library to match the text summary. You have the option to effortlessly swap these visuals with a single click or even use your own assets.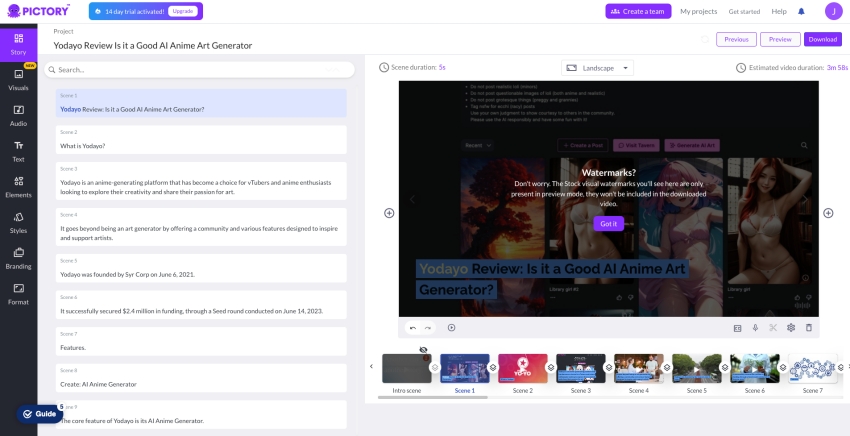 Step 4: Add background music and voice-over
Pictory's AI automatically selects a musical soundtrack to complement your video. You can choose an alternative track from the platform's vast collection or upload your own music. Additionally, you can select from a range of naturally sounding AI-enabled voices for voice-over narration. Alternatively, you can record your own voice or upload a professional voiceover.
Step  5: Customize brand settings
Pictory offers a variety of pre-designed animations, fonts, and color settings in the form of themes. You can select a theme that suits your preferences. Furthermore, you have the option to customize your video's branding by incorporating your logo, intro, outro, fonts, and color schemes.
STEP 6: Preview, generate, and share video
Before finalizing, take a quick preview of your video to ensure it meets your expectations. Once satisfied, generate the video and download it as an MP4 file. Now you can easily share your professionally crafted video with others.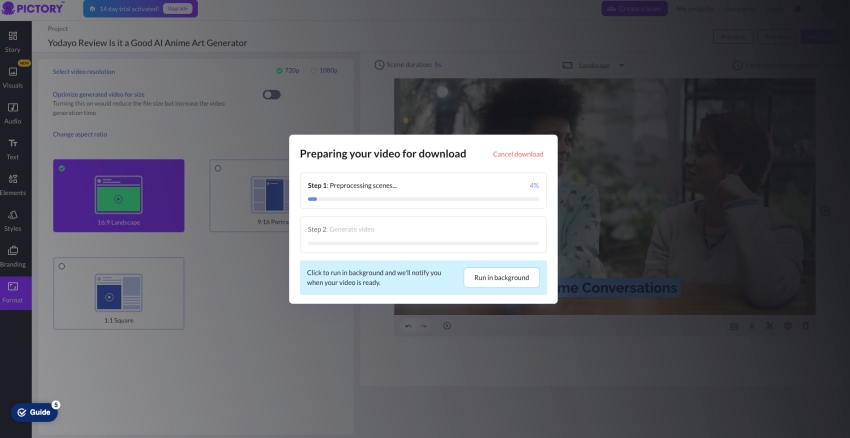 How to turn your images into a video?
Step 1: Prepare Images in Advance on Your Device
Begin by preparing a selection of images and saving them on your computer in advance. As part of the preparation process, I have gathered 9 screenshots specifically related to the Pictory tool.
Step 2: Import Images
Next, click on the "Visuals to video" option located on the right-hand side of the interface. This allows you to conveniently add multiple images from your computer all at once.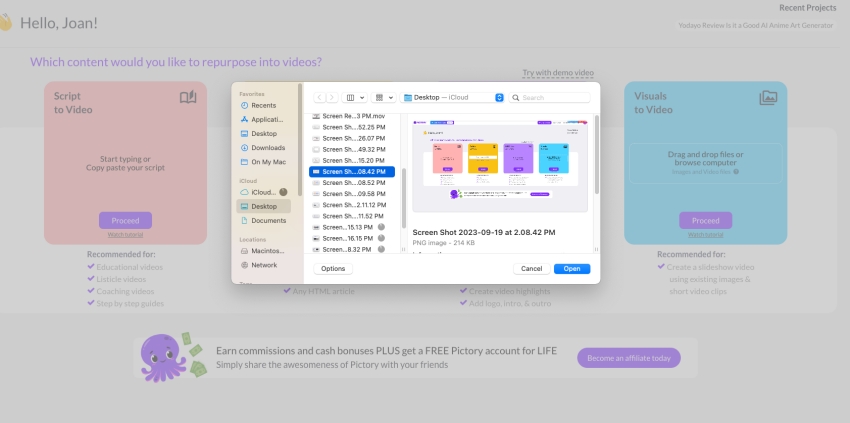 Step 3: Customize and Enhance the Video
During this step, you have the freedom to personalize your video further. Add background music, incorporate text overlays, record audio, and include subtitles to make your video more engaging and informative.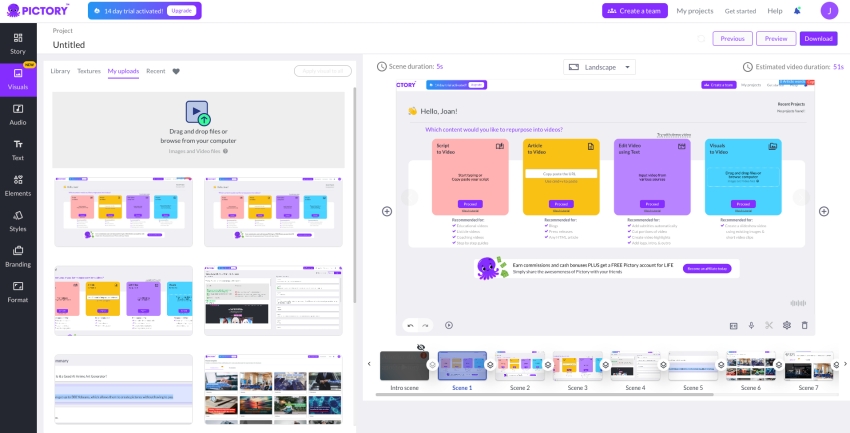 Step 4: Preview and Download
Take advantage of the preview feature by clicking the designated button. This enables you to view the video in its entirety. If you are satisfied with the result, you can proceed to download the video directly to your computer. Moreover, this versatile tool supports the automatic generation of segmented clips optimized for sharing on various social media platforms.
Pictory FAQs
---
Is Pictory free?
Pictory offers a 14-day free trial that allows users to explore and test the platform's features without providing credit card information. However, beyond the free trial period, Pictory is a paid service. It offers different pricing plans with varying features and capabilities, catering to different user needs. Users can choose a plan that suits their requirements and budget.
Can Pictory videos be monetized on YouTube?
Monetizing Pictory videos on YouTube is subject to YouTube's monetization policies and guidelines. Pictory itself does not have direct control over the monetization of videos on external platforms like YouTube.
Are there any licensing fees associated with using the visuals or music provided in Pictory?
No, Pictory has taken care of all the licensing requirements for our vast library of over 3 million visuals and hundreds of music tracks. You can freely utilize these assets in your videos without the need to pay any additional royalties or licensing fees.
Is Pictory Worth It?
If you are a beginner who is unfamiliar with video editing, you can quickly get started with Pictory. However, if you have some video editing experience and have higher requirements for video production, considering the price of Pictory, I would recommend you to choose other more professional tools.
Pictory Alternatives
---
Invideo
InVideo offers 5000+ professionally-designed templates for any use case. Customize templates using drag-and-drop actions to match your brand. Access 8m+ stock media, apply AI tools for productivity, and collaborate with your team. Optimize your workflow, save time, and unlock the full potential of video to grow your brand. 
Capcut
CapCut is a user-friendly video editing app designed to assist those who struggle with video processing. Its intuitive interface eliminates the need for extensive video editing knowledge. While it may take time for the app to match the capabilities of desktop video editors, it remains a convenient choice for mobile devices.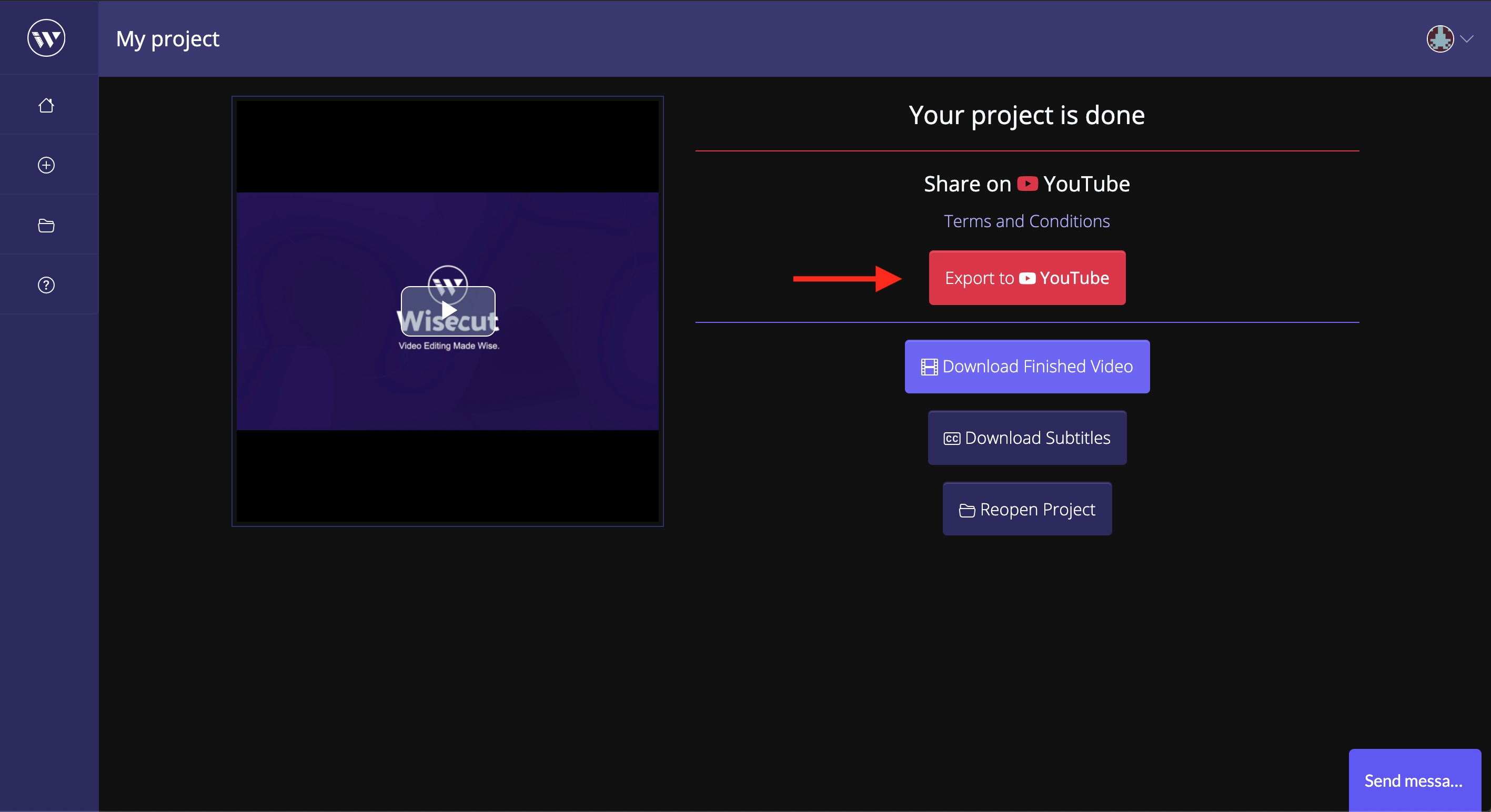 Wisecut is a powerful tool that turns your long talking videos into impactful short clips. It offers features like auto cut silences, auto subtitles, smart background music, automatic audio ducking, and storyboard-based editing. With Wisecut, you can engage your audience on platforms like YouTube Shorts, TikTok, and Instagram Reels. Try Wisecut now to enhance your video content effortlessly.
Steve.ai
Whether you're a beginner, expert, or professional video creator, Steve.AI offers solutions to help you reach new heights. Convert text to engaging videos instantly by pasting it into the Script editor. Repurpose blogs and audio files into captivating videos in seconds. With the help of AI, Steve.AI selects relevant assets effortlessly. Summon the AI's assistance using keywords to regenerate videos with fresh contexts. Experience the power of AI technology with Steve.AI for streamlined and creative video production.
More on this