Clipdrop Review: The FREE AI Powered Visual Ecosystem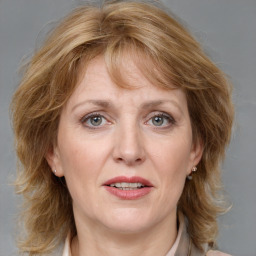 Katherine Thomson
Last update on: September 28, 2023
| | |
| --- | --- |
| Strengths | Weaknesses |
| ✅AI-Powered Image Editing | ⭕Limited Free Plan |
| ✅Wide Range of Tools | ⭕Pricing |
| ✅Mobile Compatibility | ⭕Internet Dependency |
| ✅API Integration | |
| ✅Ease of Use | |
Clipdrop Overview

What is Clipdrop?
Clipdrop is an ecosystem of apps, plugins and resources that empowers creators to effortlessly generate captivating content. With its array of tools and features driven by intelligence it becomes an ally for content creators, designers and anyone seeking to elevate their visual creations.
About the Developer
Clipdrop is developed by Stability.ai.
Customer Support
You can click the "Support" button at the bottom of the webpage, and then enter the support information you need in the pop-up box.
Features
Stable Diffusion XL
This amazing tool empowers you to create high resolution images with the help of intelligence.
Uncrop
With Uncrop you have the flexibility to adjust the cropping of your photos and tailor them to any desired image format.
Reimagine XL
Unleash your creativity by generating captivating variations of an image using the Stable Diffusion technology.  It transforms your visuals in ways.
Stable Doodle
Witness the magic as your doodles are effortlessly transformed into real life images within seconds thanks to AI capabilities.
Cleanup
Simplify your editing process by eliminating objects, people, text and flaws from your pictures. Let AI streamline and enhance your editing experience.
Remove Background
Experience precision in extracting the subject from an image while effectively removing distracting backgrounds. Achieve results with ease.
Relight
Elevate the appeal of your images by adding lighting effects that bring out their true beauty. Let every detail shine brightly with this enhancement feature.
Image Upscaler
Witness a transformation as you upscale your images by 2x or 4x within seconds. Say goodbye to noise and welcome back lost details with ease.
Replace Background
Effortlessly transport objects or subjects to backgrounds using cutting edge AI technology. Watch as they seamlessly blend into their surroundings.
Text Remover
Bid farewell to text on any image effortlessly. With a few clicks easily erase text for a more refined appearance.
Sky Replacer
Transform dull gray skies into ones in an instant. Enhance the ambiance of your images, with this quick sky replacement feature.
Pricing
| | | |
| --- | --- | --- |
| | Monthly | Annual |
| Free | Free | Start for free |
| Pro | 1971 JP¥/month | 1365 JP¥/month |
How We Review
Sign up
To create a Clipdrop account you can choose between using your email address or signing up through platforms, like Google, Facebook or Apple. By joining you are accepting their Terms of Service and Privacy Policy which includes their Cookie Use policy.
How to Use Clipdrop?
Visit the Clipdrop Website
Check out the Clipdrop website by opening it in your web browser.
Explore the Tools
Discover the range of tools and features offered by Clipdrop for editing and manipulating images. Take a look at all the options to decide which one suits your needs.
Select a Tool
Choose the specific tool or feature you want to use from the list. For example, if you want to remove the background from an image, select the "Remove background" tool.
Upload your Image
When you click on the chosen tool you will usually be prompted to upload the image you wish to work on. Utilize the interface provided to upload your image.
Use the Tool
Depending on the selected tool, you'll have options to apply various edits or transformations to your image. Follow the on-screen instructions to make the desired changes.
Save or Download
After making your edits, you can usually save or download the modified image. Look for a "Download" option, often located in the upper right or left corner of the interface.
How to Use Clipdrop to Remove Background?
Visit the Clipdrop website.
Navigate to the "Tools" section, on the tab bar.
Choose the option for "Removing background".

When you enter the Remove Background tool select the blue box to upload the image you want to remove the background from. 
Once you've uploaded the image, locate and click on the "Remove Background" button, usually situated below the image.
Please wait while Clipdrop processes your image. It may take a moment.
After the process is complete you have two options; editing of the image or downloading it with a background by selecting "Download", in the upper right corner.
How to Use Clipdrop Image Upscaler?
Visit the Clipdrop Official Website
Open your web browser and go to the official Clipdrop website.
Access the Image Upscaler Tool
Look for the "Tools" section, in the tab bar. Click on it. 
Select Image Upscaler
Once you're in the "Tools" section. Select the "Image Upscaler" option.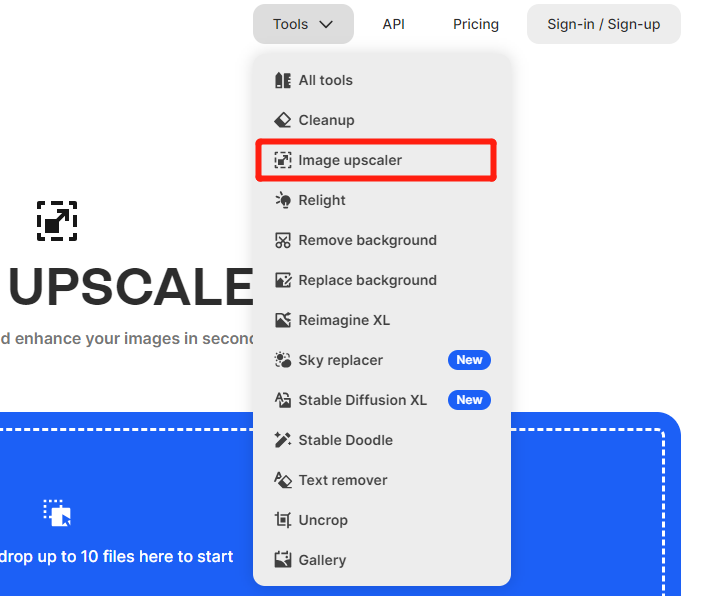 Upload Images
To enhance your images upload them by clicking on the designated box within the Image Upscaler tool. 
Adjust Attributes
Below your image you'll usually find options to adjust attributes like "Smooth," "Detailed," and different scaling factors such as "x2," "x4," "x8," and "x16." Customize these settings based on your preferences.
Start Upscaling
When you're ready to start enhancing the images click on the "Upscale" button. 
Wait for Processing
Give Clipdrop some time to process and improve your images according to the chosen attributes.
Edit or Download
Once processing is complete you have two options. Make edits using their provided tools or simply click on the "Download" option located in the right corner to save your enhanced image.
Tech Specs
| | |
| --- | --- |
| Category | Specifications |
| Supported Image Formats | Various common image formats |
| API Availability | Available for integration into third-party applications |
| Subscription Options | Free and Pro plans available |
| Pro Plan Features | High-resolution processing, queue skipping, and more |
| Payment Options | Accepts payment in Japanese Yen (JP¥) |
FAQs
Can I Remove Objects or People from Photos Using Clipdrop?
Absolutely! With the Cleanup tool you have the ability to remove objects or people from your photos. Just upload your image, select the object or person you want to remove and then download the result.
Is Clipdrop Free?
Yes, Clipdrop does offer a plan. However they also have a plan that comes with features and benefits. You can choose to subscribe to their plan on an annual basis for an additional fee. The details regarding what features are included in the plan may vary so it's best to visit the Clipdrop website for the most up to date information on pricing and plans.
Is Clipdrop Available on Mobile Devices?
Absolutely! You can easily access Clipdrop on both Android devices. It is fully compatible with smartphones and tablets making it convenient for users on the go. Simply download the Clipdrop app from your app store. Enjoy its features and tools wherever you are.
Clipdrop Alternatives
remove.bg
remove.bg specializes in automatically removing backgrounds from images. It's a quick and convenient tool for isolating the subject of an image.
UpscalePics
UpscalePics is an AI-based image upscaling tool that can enhance image resolution and remove noise while preserving image details. It offers both image upscaling and noise reduction features.
PicWish
PicWish is an AI-powered photo editing platform that offers a range of image editing tools, including background removal, image enhancement, text extraction from images, and more.
More on this