Pebblely Reviews: Pros, Cons and Alternatives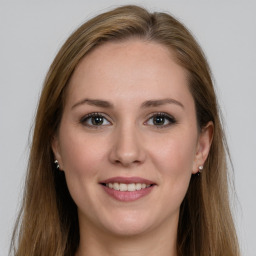 Sabrina Nicholson
Last update on: September 26, 2023
TL;DR
Pros

Cons

✅ Free Plan available

✅ Say goodbye to manual product photography

✅ Easy to Use Interface

✅ Update the features constantly

⭕ Mobile phone usage may not provide the same level of convenience as other devices.

⭕ Background removal results may be affected when the original image lacks a clean background.

⭕ Compatibility issues may arise between the image and the selected background.
Overview
What is Pebblely?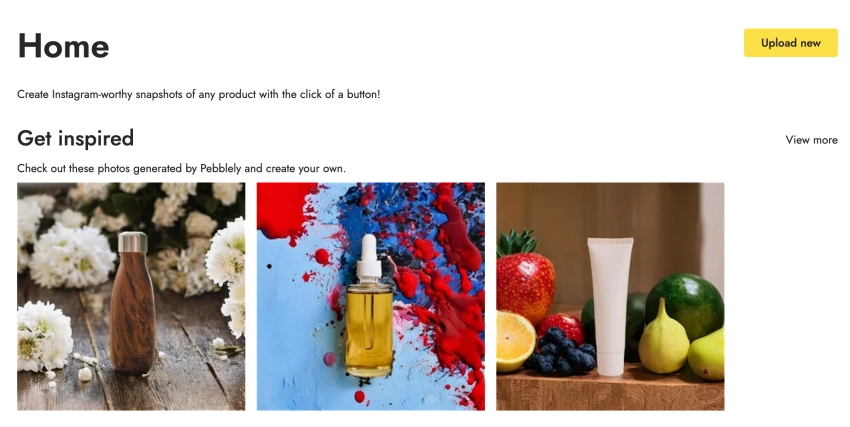 Pebblely revolutionizes the way you create product photos by offering a seamless and efficient solution. With just a click of a button, you can generate Instagram-worthy photos that will captivate your audience across various marketing channels.
Whether you're a small business owner, a creative agency, or a designer, Pebblely caters to your needs. It enables you to instantly create photos in any setting for mood boards, mockups, social media posts, and advertisements, saving you time and effort.
About the Developer
Pebblely was established in 2023 by Alfred Hua, who previously served as the marketing lead with a team of six members at ReferralCandy. Additionally, he gained valuable experience as a marketer at Buffer, a Software-as-a-Service (SaaS) company specializing in social media management, where he worked for a period of five to six years.
Features
Remove Product Background Automatically
Say goodbye to tedious manual background removal. Pebblely uses advanced AI technology to automatically remove the background from your product photos, giving you clean and professional-looking images.
Photography Themes
Add a touch of creativity and style to your product photos with a wide range of photography themes offered by Pebblely. Whether you want a minimalist look, a vibrant setting, or a specific aesthetic, you can choose from various themes to enhance the visual appeal of your images.
AI-Generated Custom Images
Harness the power of artificial intelligence to generate custom images tailored to your specific needs. Simply provide Pebblely with some input, such as desired colors, layout preferences, or product specifications, and it will create unique and personalized images that align with your vision.
Seamless Size Adjustment
Optimize your product photos for different platforms seamlessly. Pebblely allows you to easily resize your images to fit various social media platforms like Facebook, Instagram, and more. Whether you need square images for Instagram posts or horizontal images for Facebook banners, Pebblely ensures your visuals are perfectly sized for each platform.
Time-Saving Workflow
With its user-friendly interface and streamlined workflow, Pebblely saves you valuable time in creating stunning product photos. The quick and automated process allows you to generate high-quality images in seconds, eliminating the need for extensive manual editing or photoshoots.
Pebblely Pricing
Pebblely offers three pricing plans to cater to different needs and budgets: Free, Basic, and Pro.
With the Free Plan, you can get started with limited image generation and predefined themes. However, if you require more flexibility and options, the Basic and Pro plans offer higher limits, including support for custom backgrounds, product layers, and the ability to reuse backgrounds for different products. The Pro Plan provides the ultimate level of unlimited image generation and access to all features.
Choose the plan that aligns with your business needs and budget, and unlock the full potential of Pebblely to create stunning product photos with ease. Whether you're a small business owner, a creative agency, or a designer, Pebblely's pricing plans offer scalability and versatility to elevate your product visuals and marketing efforts.
| | | | |
| --- | --- | --- | --- |
| Plans | Free | Basic | Pro |
| Pricing | $0/per month | $19/per month | $39/per month |
| Images generated | 40 | 1000/per month | Unlimited images |
| Resize sizes up to 2048X2048 | Not supported | Supported | Supported |
| Use Predefined themes | 20 | Unlimited | Unlimited |
| Generate Custom Background | Not supported | Supported | Supported |
| Product layers | Not supported | Supported | Supported |
| Reuse a background for different products | Not supported | Supported | Supported |
How we review
How to Generate Product Photography with Pebblely?
Step 1: Upload the Image and Remove the Background
Upon uploading your image, Pebblely will automatically remove the background for you. If you find the results unsatisfactory, you have the option to manually refine the background using the "Refine background" feature.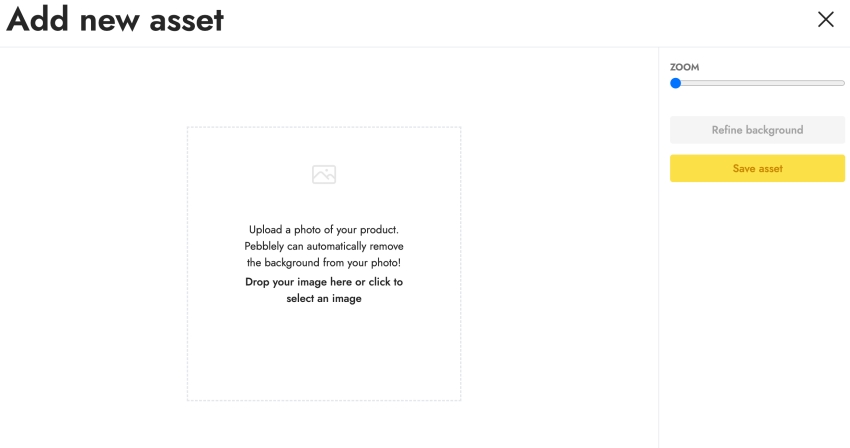 Tips: For optimal results, I recommend using a product image with a clean background. This will ensure the best possible outcome when removing the background.
Step 2: Choose from a Variety of Themes
In this step, you can enhance your product by selecting a background theme. Pebblely offers 20 free themes for users on their free plan, including studio, outdoors, gifts, and more. For those seeking a customized theme, there is an additional fee. Once you have made your selection, simply click "Generate" to confirm your chosen theme.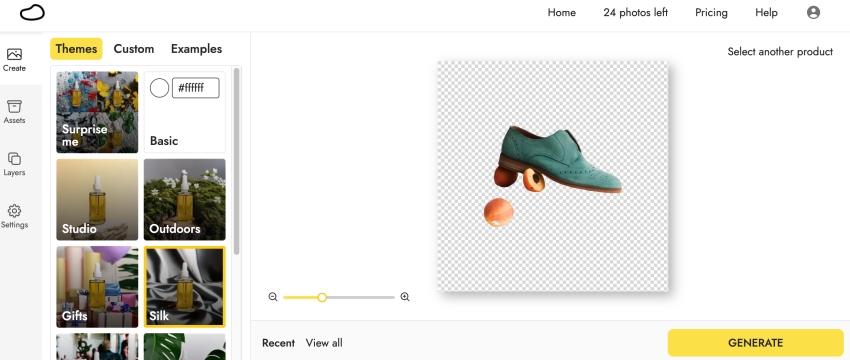 Step 3: Resize Your Image
By default, your image will be automatically generated at a size of 1024×1024 pixels. However, if you require a different size for specific platforms like Facebook or Instagram, you can utilize the "resize" option. Kindly note that this feature is available for a fee.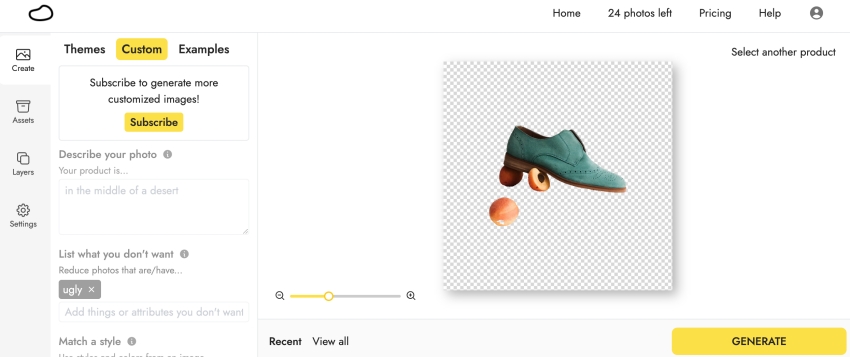 Step 4: Download Your Image
With a simple click on the "Download" button, you can easily and successfully save the image to your computer for further use.
Video review
Pebblely FAQs
Is Pebblely Free?
Pebblely offers both free and paid plans. The free plan provides access to a range of features, including automatic background removal, a selection of predefined themes, and image download capabilities. However, certain advanced features and customization options may require a paid subscription. 
Can I Use the Generated Images for Commercial Use?
You retain ownership of the images you generate using Pebblely. The commercial use terms for these images will be subject to the specific usage rights and licenses associated with the backgrounds or elements used within the generated images.
Pebblely Alternatives
Booth.ai
Booth.ai empowers you to create professional-quality product photography using AI. With just a few simple steps, you can quickly generate high-quality lifestyle photos by specifying your desired shot and uploading sample product images. Harnessing the power of Generative AI, Booth.ai brings your creative vision to life by creating new, original images tailored to your brand, vision, and specific needs. 
Pixelcut.ai
Create professional product photos effortlessly with Pixelcut's free online AI tool. Trusted by 15 million users and available on iOS and Android, it offers instant and impressive results. Choose from a variety of styles and photorealistic AI-generated backgrounds. Boost conversions with captivating product images, while saving time and money without the need for a photographer or studio.
Creatorkit
CreatorKit can create stunning product images in seconds. Say goodbye to blurry labels and distorted shapes – CreatorKit ensures zero quality loss. It also Integrates with Shopify for effortless photo generation and enhance your online store. 
More on this