Kaiber AI Review: Easily Transform Your Ideas into Videos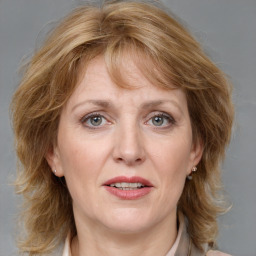 Katherine Thomson
Last update on: November 22, 2023
| | |
| --- | --- |
| Strengths | Weaknesses |
| ✅Easy Visual and Animation Generation | ⭕Online Dependency: Requires a reliable internet connection |
| ✅Audioreactivity: Sync visuals with music | ⭕Dependency on Credits for certain features |
| ✅Ease of Use and User-Friendly Interface | ⭕Limited Customization for complex animations |
| ✅Aspect Ratio Support | ⭕Legal and Copyright Considerations for AI-generated content |
Kaiber AI Overview

What is Kaiber?
Kaiber is a lab that harnesses the power of AI to support artists and creators. It provides user-friendly tools for generating audio and video allowing users to unleash their creativity. Through Kaiber individuals can bring their ideas to life with captivating visuals and animations while also enjoying features such as integration and the ability to convert text into videos.
Customer Support
Kaiber has a Help Center or Knowledge Base that provides answers to frequently asked questions (FAQs), tutorials, and guides on how to use the platform's features. And users may have the option to contact Kaiber's support team via email. 
Features of Kaiber
Audioreactivity: With Kaiber AI you can create visuals that dynamically respond to the beats and rhythms of music. This amazing feature lets you synchronize your visuals, with the audio resulting in engaging content.
Animation: Kaiber AI empowers you to transform words into animated visuals. By animating text and turning content into animations you can bring your ideas to life in an exciting way.
Transform: Simplifying the process of altering the appearance and style of your videos is what Kaiber AI does best. With a few clicks you can achieve transformations allowing for easy experimentation with different effects and aesthetics.
Storyboard: In Kaiber AI the Storyboard feature offers a way to design narratives step by step. It's particularly useful for planning and organizing the elements of your projects ensuring a captivating storyline.
Gallery: Kaiber AI provides access to a gallery of content that serves as a source of inspiration for your creative journey. Explore a range of visuals and ideas in order to spark your creativity.
Image-to-Video: Although not explicitly mentioned it is implied that Kaiber AI supports the conversion of images into video content. This allows you to animate images and make them come alive.
Aspect Ratio Support: With Kaiber AI you have the freedom to create content, in dimensions making it suitable for platforms and formats.
Upscaling: Our AI platform also provides capabilities allowing your videos to be transformed into resolutions such, as 1080p and 4K. This ensures that your content appears crisp and polished.
Pricing
| | | |
| --- | --- | --- |
| Pricing Plan | Monthly Price | Annual Price |
| Explorer | $5/mo | N/A |
| Pro | $15/mo | $10/mo |
| Artist | $30/mo | $25/mo |
How We Review
Sign up

Users have the option to sign up using either their email address or their Google account. 
How to Use Kaiber?
Go to Kaiber's Official Website
Start by visiting Kaiber's official website.
Click "Start Free Trial"
On the top navigation bar, click on the "Start free trial" option.
Register and Log In
Follow the registration process to create your account.
Once registered, log in to your newly created account.
Create Your First Video

After logging in, you can choose the option to "CREATE YOUR FIRST VIDEO."
Upload Files

You have several options for creating your video:
Upload an image (max size: 20MB).
Transform an existing video (max length: 1 minute).
Add your song or audio file (max length: 4 minutes).
Choose Subject and Style
Select the subject you want to create a video of.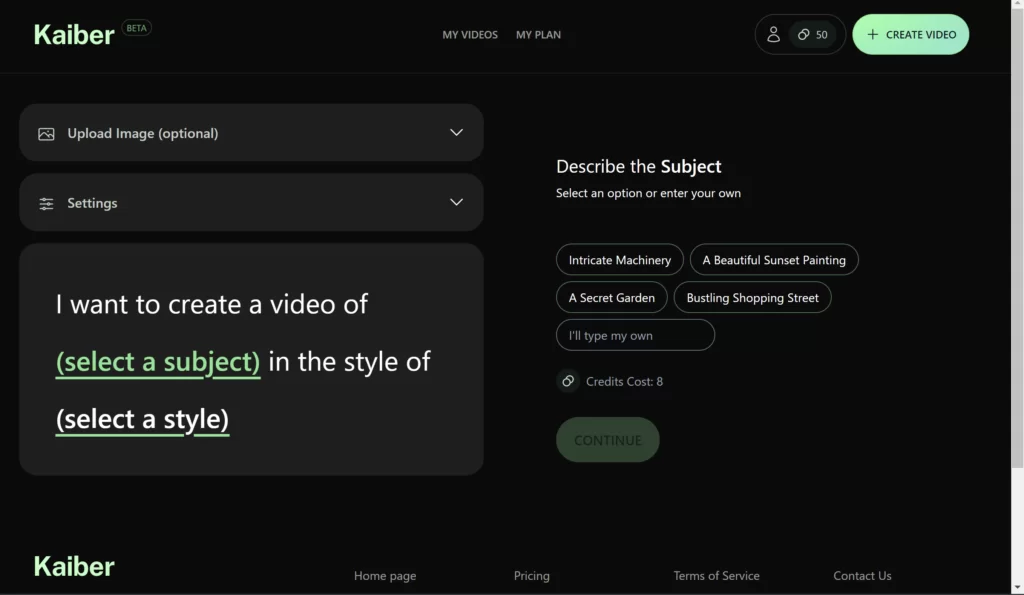 Choose the art style in which you want to create your video.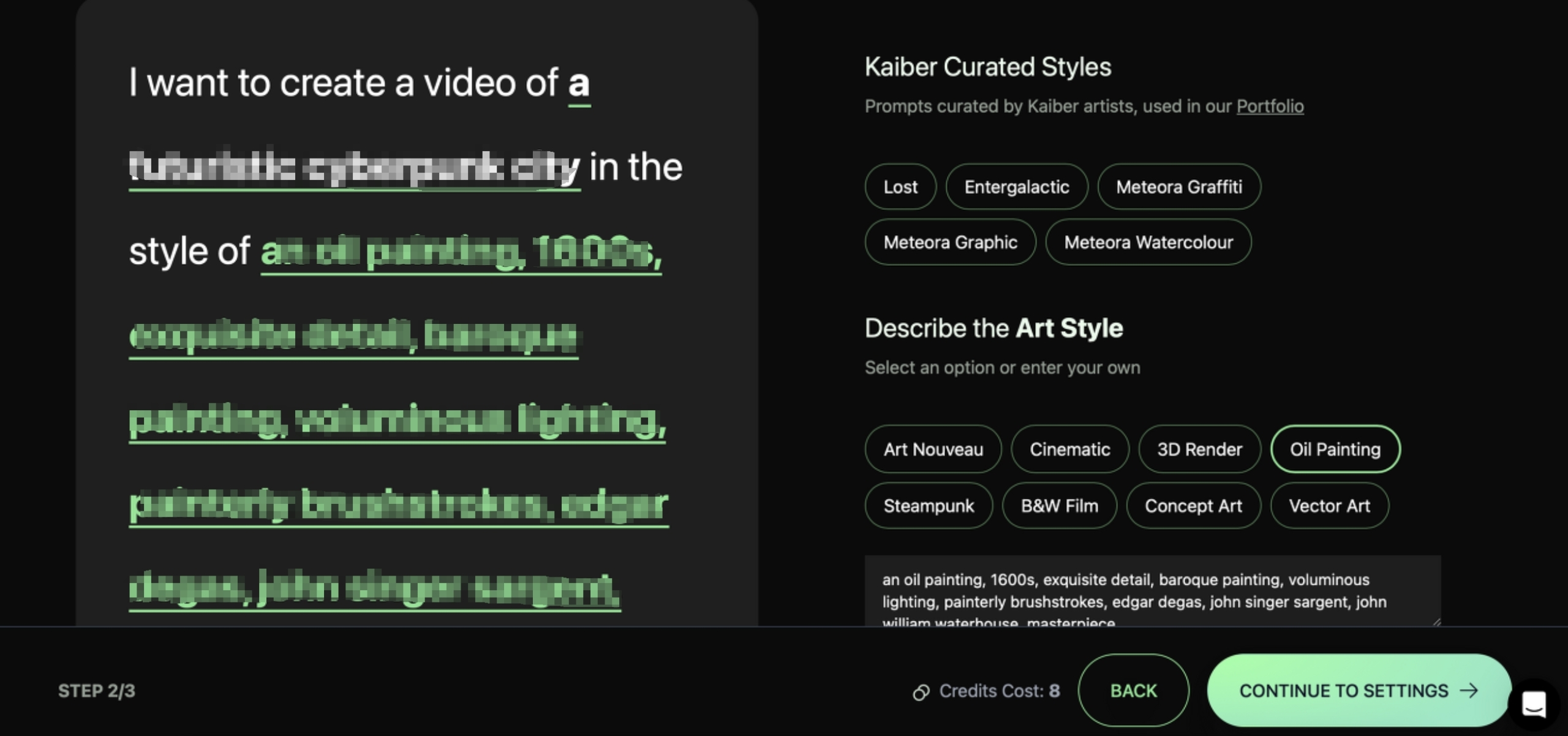 Edit Video Settings
Adjust the settings for your video, including:
Duration (e.g., 10 seconds).
Aspect ratio (e.g., 16:9, 4:3, 1:1, etc.).
Camera movement direction (e.g., zoom in, up, zoom out, etc.).
Continue
Once you've configured your video settings, click "CONTINUE."
Review and Edit
Review the settings and details you've chosen for your video.
Make any necessary edits or adjustments.
Create Your Video
Finally, proceed to create your video using the selected options and settings.
Tech Specs
| | |
| --- | --- |
| Technical Specifications | Details |
| AI Technology | Generative Audio and Video Tools |
| Supported Media Types | Images, Audio, Video Files |
| Features | Audioreactivity, Animation, Transform, Storyboard |
| Video Resolutions | Upscaling to 1080p and 4K |
FAQs
Is Kaiber Free?
Kaiber offers both free and paid plans.
Is Kaiber AI Legal?
Kaiber AI, like many other AI-powered creative tools, is designed to be used for creative purposes within legal boundaries.
Kaiber Alternatives
VideomakerAI
VideomakerAI is a platform powered by AI that focuses on creating videos based on text prompts. It allows users to transform their videos into styles, like Nature, Horror and Robotic among others. Users have the flexibility to customize the video styles and generate high definition versions.
Genmo AI
Genmo AI is a tool for generating videos from text prompts. With Genmo AI users can morph their videos into styles such as Nature, Horror and Robotic. The platform plans to add styles in the future. Users simply select a video they want to stylize. Then choose the desired style. Genmo AI also offers an option for users to explore its capabilities through a trial period.
Synthesia
Synthesia is a platform that uses AI technology to transform text into captivating videos within minutes. It provides sounding voices in over 120 languages. Offers access to a wide range of more than 140 AI avatars for enhanced engagement. Synthesia user friendly editing interface makes it easy for anyone without experience to create impressive videos.
More on this