Adobe Audio Enhancer Review 2023: Is It Good?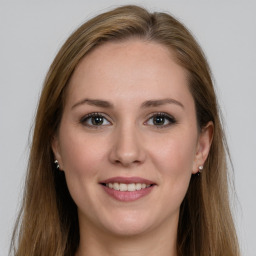 Sabrina Nicholson
Last update on: September 28, 2023
Pros

Cons

✅ The free version is suitable for individual users, providing sufficient functionality.

✅ The enhanced audio quality is excellent, delivering noticeable improvements.

✅ The software is extremely user-friendly, making it accessible for all levels of expertise.

⭕ Limited to supporting only five audio formats.

⭕ iPhone users may need to convert their audio formats to be compatible.

⭕ The output format of the audio cannot be manually selected, relying on the default settings.
Overview
What is Adobe Audio Enhancer?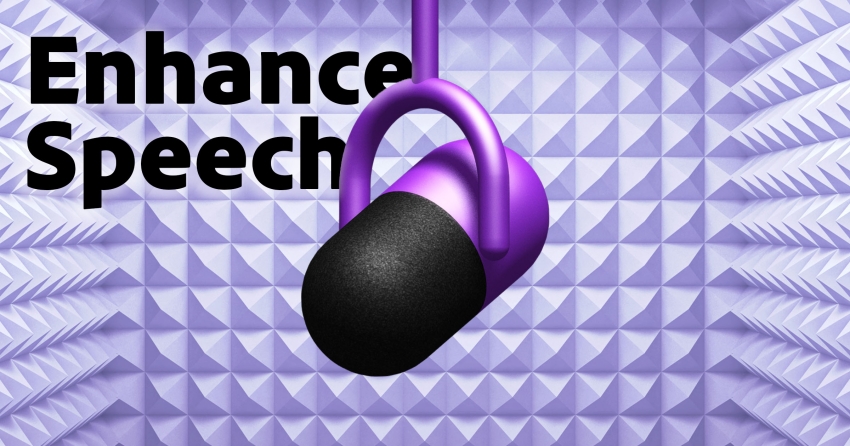 The Adobe AI Audio Enhancer, part of Adobe Podcast, is an easy-to-use software that utilizes artificial intelligence to enhance the quality of voice recordings. It refines frequencies, removes background noise, and provides a professional studio-like sound. Designed for simplicity and convenience, it is particularly useful for podcasters seeking to improve their audio without professional expertise. 
Features
Bulk Upload
Save time and effort by uploading multiple audio files simultaneously. With the bulk upload feature, you can conveniently enhance multiple files in one go, streamlining your workflow.
Adjust Enhancement Strength
Tailor the enhancement to your specific needs. Adobe Audio Enhancer allows you to adjust the strength of the enhancement, giving you control over the final audio output. Customize the level of enhancement to achieve the desired clarity and quality.
Support for 5 Audio Formats
Benefit from wide compatibility. Adobe Audio Enhancer supports five popular audio formats, including .wav, .mp3, .aac, .flac, and .ogg. You can work with the format that best suits your requirements, ensuring seamless integration with your existing audio files.
Fast and High-Quality Audio Enhancement 
Experience efficient and high-quality audio enhancement. Adobe Audio Enhancer utilizes advanced algorithms and AI processing techniques to deliver fast and precise enhancements. Enjoy improved audio clarity, reduced background noise, and enhanced overall sound quality in your recordings.
Pricing
The free version of Adobe Audio Enhancer provides support for audio enhancement and supports a maximum file size of 500 MB. However, it does not offer bulk upload functionality or the ability to adjust the strength of the enhancement.
On the other hand, the Express Premium version offers all the features of the free version, but with additional benefits. It supports bulk upload, allowing users to conveniently enhance multiple audio files at once. Users also have the flexibility to adjust the strength of the enhancement according to their preferences. The Express Premium version supports larger file sizes, with a maximum limit of 1 GB. Additionally, it allows longer durations for audio files, with a maximum duration of 2 hours. Users can enjoy an extended duration of enhanced speech per day, with a limit of 4 hours.
| | | |
| --- | --- | --- |
| Plans | Free | Express Premium |
| Audio | supported | supported |
| Bulk upload | Not supported | supported |
| Adjust enhancement strength | Not supported | supported |
| Max file size | 500 MB | 1 GB |
| Max duration | 30 minutes | 2 hours |
| Max hours of enhanced speech per day | 1 hour | 4 hours |
How we review
How to Enhance Your Audio with Adobe Audio Enhancer
Step 1: Record your voice using your phone
When recording your audio with your iPhone, it is important to note that Adobe Audio Enhancer supports specific audio formats such as .wav, .mp3, .aac, .flac, and .ogg. However, iPhones typically output audio in the .m4a format. To ensure compatibility, you may need to use an audio format converter before uploading your audio to Adobe Audio Enhancer.
Step 2: Upload your voice to the Adobe Audio Enhancer dashboard

Once you have the desired audio format, upload your recorded voice to the Adobe Audio Enhancer dashboard. This step allows you to access the powerful audio enhancement features offered by Adobe.
Step 3: Preview and download your enhanced audio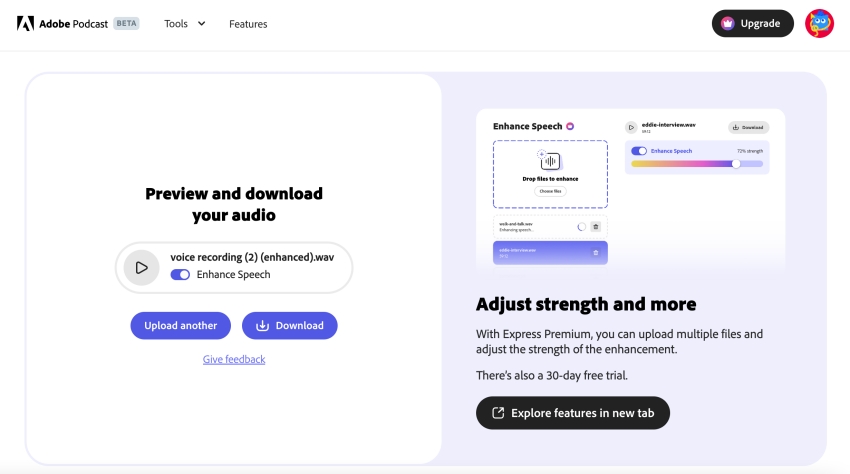 After uploading your voice, take advantage of Adobe Audio Enhancer's preview feature. This allows you to listen to the enhanced version of your audio and make any necessary adjustments. Once you are satisfied with the results, you can proceed to download your enhanced audio file.
Adobe Audio Enhancer FAQs
Is Adobe Voice Enhancer free?
Adobe Voice Enhancer offers both a free and premium version. The free version allows you to enhance audio files with a maximum file size of 500 MB. In contrast, the premium version offers a larger file size limit and additional features. With the premium version, you can enjoy benefits such as bulk uploading of multiple files and the ability to adjust the strength of the enhancement according to your preferences.
Does Adobe have voice editing software?
Yes, Adobe offers voice editing software as part of its Creative Cloud suite. Adobe Audition is a professional audio editing and recording software that provides comprehensive tools for editing, enhancing, and manipulating voice recordings. With Adobe Audition, you can perform tasks such as noise reduction, equalization, volume adjustments, pitch correction, and more to improve the quality and clarity of voice recordings. It also offers advanced features like spectral editing, multitrack mixing, and audio restoration. Adobe Audition is a powerful tool used by professionals in the audio production industry.
How can I convert the audio format?
There are numerous free tools available that can assist you in this process. Popular options include CloudConvert, Convertio, and more. These platforms allow you to upload your audio file and easily convert it to the desired format of your choice. 
Adobe Audio Enhancer alternatives
Fxsound
FXSound is a free software that brings your audio experience to the next level by enhancing sound quality, volume, and bass. With its comprehensive set of features, including an equalizer, effects, and presets, you have the ability to customize your audio to suit your preferences and enjoy an immersive listening experience. Whether you're a music enthusiast, a gamer, or simply looking to enhance the audio output of your device, FXSound provides the tools you need to get better sound and elevate your audio enjoyment.
Dolby.io
Dolby offers audio enhancement technologies for application integration. Improve speech clarity, reduce background noise, and drive engagement with high-fidelity media and premium audio features. Dolby's advanced API includes features like background noise reduction, loudness correction, plosive removal, adaptive speech isolation, dynamics processing, scene-based audio processing, background hum removal, sibilance reduction, and dynamic talker balancing. Try the demo to experience the power of Dolby's audio enhancements in your applications.
Flixier
Flixier's online audio enhancer tool can automatically elevate the sound of your recordings with a simple click. Whether you're creating a podcast, refining a recorded conference, or publishing a lecture, Flixier can enhance your audio quality, clean up speech, reduce background noise, and adjust loudness levels. All you have to do is upload your video or audio recording to Flixier, access the audio enhancement menu, and let the tool work its magic.
More on this