Part 1: What is Nektony Maccleaner
Nektony Maccleaner is a well-known tool designed to clean and optimize Mac computers, ensuring smooth device performance by eliminating unnecessary data, junk files, and other unwanted content. As an all-inclusive cleaning solution, it can optimize a Mac's performance by freeing up valuable disk space and removing unwanted files.
Part 2: Nektony Maccleaner Features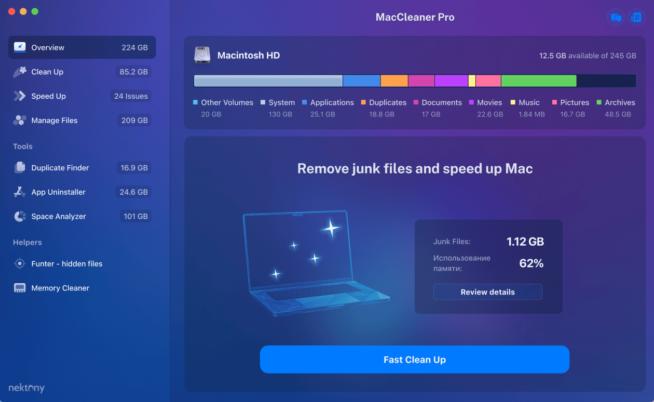 Nektony Maccleaner comes with a range of features that make it an excellent choice for users looking to keep their Macs in top shape. Some of the key features of Nektony Maccleaner include:
System Cleanup: This feature helps to remove system junk files, caches, log files, and other unnecessary data that can slow down your Mac's performance.
Disk Cleanup: This feature helps to remove unnecessary files and folders that are taking up valuable disk space.
App Cleanup: This feature helps to remove unnecessary files and folders associated with apps that you no longer use.
Duplicates Finder: This feature helps to find and remove duplicate files that are taking up valuable disk space.
Large Files Scanner: This feature helps to identify large files that are taking up valuable disk space and allows you to delete them.
Privacy Cleanup: This feature helps to remove browsing history, cookies, and other sensitive data that can compromise your privacy.
Part 3: Nektony Maccleaner Pricing
Nektony Maccleaner is available for purchase on the Nektony website and the Mac App Store. The pricing for Nektony Maccleaner varies depending on the time you choose. 1-month subscription: $14.951-year subscription: $29.95One-time purchase: $74.95
Part 4: Nektony Maccleaner Coupon Code
Nektony often offers coupon codes that you can use to get a discount on the purchase of Nektony Maccleaner. You can check the buy link on this page to enjoy the latest offer.
Part 5: Apps like Nektony Maccleaner
There are several other cleaning and optimization apps available for Macs that offer similar features to Nektony Maccleaner. Some of these apps include CleanMyMac X, CCleaner.
Part 6: Nektony Maccleaner Reviews
Nektony Maccleaner has received positive reviews from many users who have found it to be an effective tool for cleaning and optimizing their Macs. Users have praised its ease of use, comprehensive cleaning features, and ability to free up valuable disk space.
Ratings from Trustpilot: 4.8/5
"Just recently had to solve a loss of approx 150Gb of disk space on my MacBook Pro. With my limited skill level and support from the techs managed to retrieve the full 150Gb back. The Disk analyzer program was super simple to use and the tech support staff go out of their way to help. These guys are awesome!!"
Ratings from G2: 4.9/5
"Mac cleaner pro is an excellent program. We have Windows and mac workstations, but with the Mac stations, we have never found legitimately good programs to perform weekly tune-ups. This program can remove hidden junk files that aren't needed and so much more. Typically the Mac programs are limited, but with Mac cleaner pro, there are no limits."
Part 7: Nektony Maccleaner FAQs
1. Is Maccleaner safe?
Yes, Nektony Maccleaner is safe to use. It contains no malware or harmful code that can harm your Mac. However, it is essential to download it from a reputable source to ensure that you are getting genuine software.
2. How to stop Maccleaner messages?
If you are receiving unwanted messages from Nektony Maccleaner, you can disable notifications from the app by going to System Preferences > Notifications and unchecking the box next to Nektony Maccleaner.
3. How to cancel a Maccleaner subscription?
If you have subscribed to Nektony Maccleaner through the Mac App Store, you can cancel your subscription by going to the App Store, clicking on your profile, and selecting "Manage Subscriptions." From there, you can select Nektony Maccleaner and click "Cancel Subscription." You can contact their support team to cancel your subscription if you have purchased Nektony Maccleaner from the Nektony website.
Some links may be affiliate links, which means we may earn a commission at no extra cost to you. Check out our disclaimer.